Shabazz Nagee Muhammad was in a car on the way to the airport to catch the next flight out to Minnesota to meet up with his teammates to start some pre-training camp workouts when he decided to hop on the phone to talk with Dime. Muhammad, 23, figures to be a key rotation player in the Timberwolves' youth movement that features the last two rookies of the year in Andrew Wiggins and Karl-Anthony Towns. There are currently eight Timberwolves who are aged 25 and under, and Muhammad, who is entering a contract year, could be an instrumental force off the bench as the 'Wolves look to improve on a season that saw some good things out of the kids, but didn't always translate to wins.
In Dime's conversation with Muhammad, we talked about the upcoming season, new coach Tom Thibodeau and blocking kids at a youth basketball camp. If things go the way both Thibs and Shabazz want, he'll finish the season in the conversation for Sixth Man of the Year. When he gets playing time, he's been really efficient, averaging 18 points and six rebounds per 36 minutes. If he has an Achilles heel on the offensive end, it's his three-point shooting, where he only shot 28.9 percent last year. However, last season was the first year in which he was fully healthy, and going into the 2016-17 season with a coach who believes in his ability to score the ball, we should see improvements in all facets of his game.
The UCLA product doesn't receive a tremendous amount of attention on a team with a pair of ROY award winners, a 2-time slam dunk champ and, of course, the legendary Kevin Garnett, but Muhammad is looking to be the 'Wolves X-Factor in 2017, and he's excited about the opportunity in front of him to become just that.
DIME: What have you been doing this offseason to prepare for the upcoming year?
Shabazz Muhammad: I mean, the offseason has been going really well. I've been working out a lot. A lot of basketball stuff like footwork and non-basketball stuff like weight training and conditioning.
Do you have any personal or team-oriented goals for this upcoming season?
SM: Well, yeah. As a team, we want to get above .500 this year. I know we're really young, but we have really good coaching coming in and we're going to be ready to play.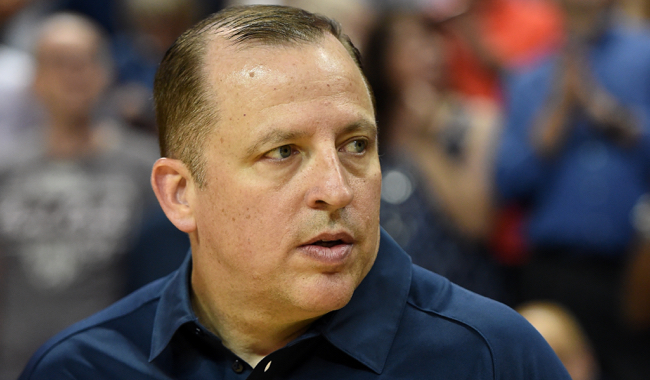 Speaking of coaching, does it seem like the whole team is excited to play for Tom Thibodeau this year?
Yeah, everyone's excited and we're all interested to see how it's going to work for all of us. This is our third coach over three years, but we all think Coach is going to be here for a while. We're excited to grow with him and to become a really good team.
What kind of things have you talked about with Thibs individually?
When I was at the Vegas Summer League, we had a chance to sit down and talk after a workout. We talked about the team and how excited he is to coach us. We talked about my mindset going into the season. After the talk, I felt ready to work and ready to come off the bench to help this team win games.
Do you see your role changing at all now that Thibs is coaching?
Definitely. He told me that I'm going to be a really big part of this team. I'm going to be a big part of our offense off the bench and that he's going to put me in a lot of spots where I can compete and score the ball. That's something I'm really excited to get down and start doing for our team — really start helping us get back above .500 and have a really good season.
Okay, that doesn't really come as a surprise to me. When I look at your numbers, you've been really efficient with producing in the minutes you've been given so far. Knowing that Thibs is going to be looking to put you in a position to score, what do you feel like you need to improve the most on as an offensive player?
One of the things the coaches have been telling me is that they want to use me to spread the floor. They're thinking of playing me at three different positions, putting me in different spots so I can find ways to score the ball. I think for me it's really getting to know our new offensive system. I just can't wait to get started. I know I can be an X-Factor for this team, I just have to go out there and start working right away in training camp.
So you talked about youth earlier. The guys who are going to get the majority of the minutes are incredibly young, and usually when you have younger teams, it takes a while to gel on the defensive end. How do you think Thibs will help you guys on that end considering his background coaching fantastic defensive teams?
You know, it's going to be really tough. Obviously, we just had a really good defensive coach come in. We know he's going to be demanding on that end, so that's something that we're all going to have to really work at. Like I said, we're a really young team, but if we can get better on that end, we're going to be a really good team in the next two years.
Your youth is one of the reasons you guys were able to come away with that huge win against the Warriors last season (Shabazz dropped 35 that night), does a win like that make you feel like this season, you can compete with anyone?
Oh man, that was a signature win for us. We knew that we weren't going to make the playoffs, but we knew that we had to go into that game and play hard. A lot of people were watching that game, and it's something I feel like we can carry over into this season.
Kevin Garnett is a guy who was on one of those great Thibs defensive teams, what are some of the things you've been able to learn from him over the last year?
You know, having him around was a big deal for us. KG is obviously a Hall of Famer, and one thing that he does is really make us work as a young team. He knows all the ins and outs of the stuff we need to do on the floor, what we need to be doing, where we need to be. I really hope to see him back this year on the team.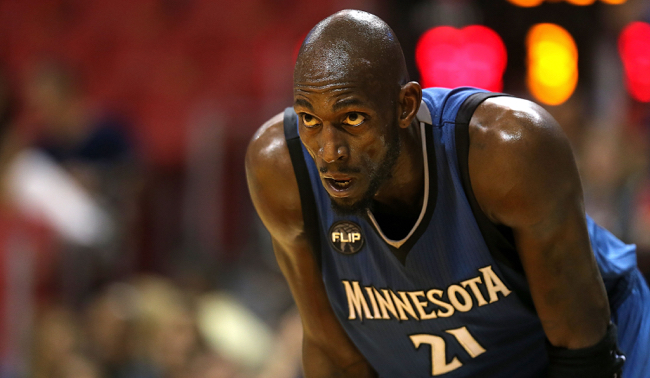 KG has always been an interesting character, what are some of the things he does that stands out to you the most?
I would say that he's very intense before games. He's always working and moving around. A lot of guys have a lot of habits before games, but no one is ever as intense before tipoff as KG. The way he is before games just makes you want to go out and play for him, he makes you want to play hard.
Alright, before I let you get out of here, I have to ask you about the video that the Timberwolves put out showing you blocking a kid. What was going through your mind when you decided that you were going to throw that kid's shot into the 4th row?
Well, everyone there was telling me to play defense on the kids, and it's always funny to me to block a kid, but I didn't really mean to block him that hard [laughs]. Even though it was kind of funny, I felt like I needed to go over there and apologize to him.