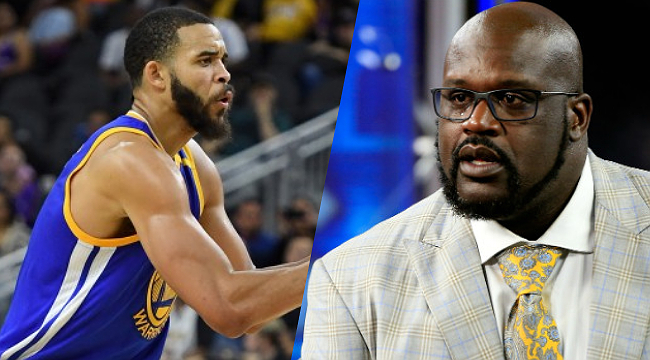 The NBA is better than every other sport at everything, including Twitter fights in the middle of the night involving a current player and a Hall of Famer that currently works for TNT. You don't get that anywhere. Jay Cutler will never be up at 3 a.m. tweeting at Terry Bradshaw. Never happen.
But it was Javale McGee and Shaquille O'Neal — again — in the early hours of Friday being mad online.
Like any good beef, it started offline. On Thursday night's edition of NBA on TNT, Shaq fronted a Dr. Strange parody that featured McGee missing dunks, falling down and Shaq starring in the clip.

So you can see how this may upset someone. It did.
McGee responded at 2:25 a.m. (not even 11:30 p.m. his time, so it's still early) requesting that Shaq… well, you see.
If you'd like to know what EAD stands for, please search the internet, for this is a classy web site that doesn't traffic in that stuff. Let's just say JaVale wants Shaq to eat a thing, and that thing starts with the letter 'D' and… OK, you've got it now.
Shaq got around to responding at 3:57 a.m. ET, which is very likely his time zone since the TNT show is shot in Atlanta.

Shaq seems genuinely surprised that the above clip would upset McGee and that he'd respond to it. So he threatens to beat him up. These are grown-ass men, people.
McGee employed the quote tweet response and while Shaq is obsessed with fighting, McGee is fixed on nuts, it seems.
This is now the second time in which McGee has labeled Shaq as a person in a minstrel show and it's such an escalation of a goofy fight involving a Dr. Strange parody and some missed dunks. The first time this happened, it was after Shaq made fun of McGee's haircut in January. So Shaq closed the argument the only way he could — with a D+ photoshop he's had saved on his computer for years.
Get it? Bum. He's a bum. Shaq has never been funny. It's important to never lose sight of this.
Who's the winner of this beef? No one. Literally no one.