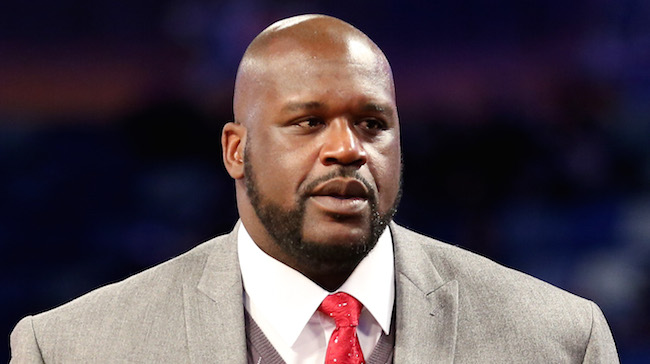 Shaquille O'Neal was one of the most dominant forces in NBA history, from his time in Orlando through his prime in Los Angeles and even in Miami before his career truly began to decline. Shaq came into the league as a force of nature and sustained that, averaging over 20 points per game in each of his first 14 seasons and 10 rebounds per game in each of his first 13.
When Shaq entered the league he carried himself with the same bravado he has now, 25 years later, and his (well-earned) self-confidence is as much a part of his persona as anything else. However, there was a time when Shaq allowed doubt to creep in about how he would fare in the NBA, even if he refused to let anyone see he was afraid.
The Diesel's first marquee game in the NBA was at Madison Square Garden, where he'd face Patrick Ewing and the New York Knicks. Ewing was one of the dominant centers in the NBA at the time, and for a rookie, even one as physically imposing and gifted as Shaq, there were plenty of nerves entering that matchup.

Shaq recently sat down with Sports Illustrated's Jack McCallum to watch that first game and reflect on it 25 years later, and while his outward appearance on game day was that of confidence, Shaq says inside he was terrified.
"I haven't said this to anybody before, but I was terrified," says O'Neal, settling into his seat in the studio. "I was terrified because I said to myself that Patrick Ewing is a 10. I'm about a 4, so I don't want to get super embarrassed.

"I'm about to face Ewing," continues Shaq. "I'm just sitting there faking it until I make it. I'm thinking that I'm in New York and I don't want to wake up in the morning and see in The New York Times, EWING 50, SHAQ 10, or read: EWING HOLDS SHAQ TO SINGLE DIGITS.

"But even though I was terrified, I'm not going to show people that I'm terrified, because when you're facing an opponent, the first thing I like to do is just look at them. Guys like Vlade Divac, I look in their eyes and they put their head down, and then I knew I had them. So I didn't want anyone to be able to look in my eyes and see that."
It's a glimpse at how the great athletes train their minds to work, covering up fear with confidence and swagger, refusing to let anyone know when they have doubts.I also enjoy the dig at Vlade Divac, which Shaq never misses a chance to do (it's especially funny now that Shaq is a minority owner of the Kings, where Divac is GM).

Entering that game, Shaq had scored 35, 31, 29, 29, and 29 in his last five games, but those came against the Hornets, Nets, Sixers, Bullets, and Warriors. This was his first time going up against another superstar big man, and even for someone who had found such incredible success early, there were still nerves and doubts.
Shaq quieted his nerves to the tune of 18 points and 17 rebounds, outperforming Ewing in both categories, although the Knicks thumped the Magic by 15 points. His first shot of the game was a miss, but it still gave him the confidence he needed going forward because of how easily he got it off.
"So right here I shot the ball, and he wasn't on my shot so now I'm saying to myself, I can get my shot off anytime I want to," O'Neal said. "He's still Patrick Ewing, but I got a little more lift, [I'm a] little bit quicker than him, so now that I took the shot, my nerves are easing a little bit more."
O'Neal's very next game was against Olajuwon, where he scored 12 and pulled down 13 boards in a Magic win, as Orlando. Those two games gave Shaq a taste of where he could go and the caliber of star he needed to eclipse to become the greatest. The entire piece is a great look into the mind of O'Neal and how he viewed the game as a major moment early in his career.