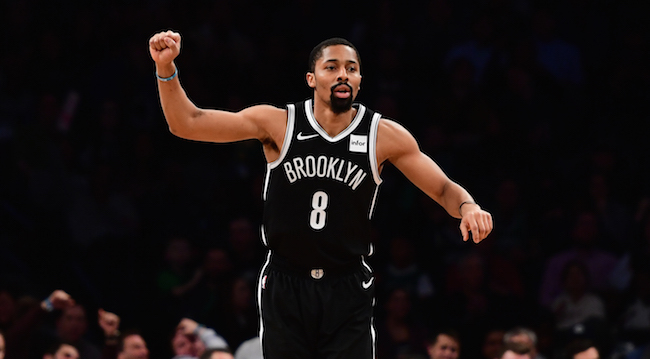 The Brooklyn Nets cannot help but to play in close games every night. Every Nets game seemingly comes down to the wire, and Wednesday's game in Houston was no different.
James Harden and the Rockets welcomed the Nets to town with Harden going off for his customary 50-point outing as he managed to cruise past the oddsmaker's 40.5 point total projection for a second straight 50-point game.
However, Harden dominating offensively wasn't enough for the Rockets to put away the Nets because for 30 seconds at the end of the game, Spencer Dinwiddie did his best Jams Harden impression. Dinwiddie hit three three-pointers in the final 26.2 seconds of play, including an absurd, well-contested pull-up three from way outside to tie it with eight seconds to play.

Typically you'd hunt for maybe a better look with as much time on the clock as the Nets had, but Dinwiddie was hot and let it fly, finding nothing but net from 30 feet out. It's far from the first time Dinwiddie has caught fire to end a game for the Nets, and although he comes off the bench for Brooklyn, he's emerged as their go-to man in late game situations. On Wednesday, that paid off big time in regulation and again in overtime.
The Nets fell behind by seven in the extra period, but stormed back and once again it was Dinwiddie who had the go-ahead score with an and-1 bucket against P.J. Tucker to go up 143-142. A miss from Austin Rivers and a pair of free throws from Joe Harris made it 145-142 and Gerald Green's buzzer-beater went begging as the Nets and Dinwiddie were able to overcome another monster night from Harden to get a huge road win.