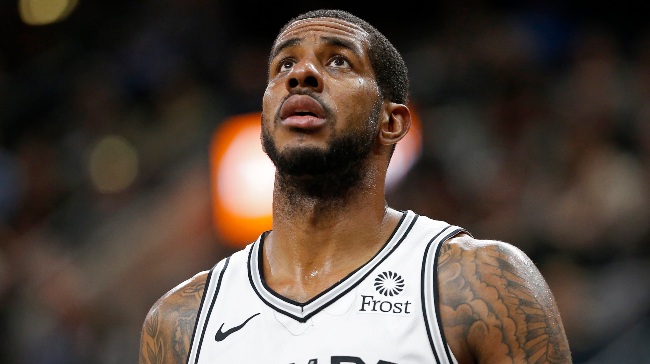 Is it too early to call a winner for Game of the Year? Let's hope not, but what the San Antonio Spurs and Oklahoma City Thunder did on Thursday night might be the landslide winner at season's end. This game, a 154-147 San Antonio win in double overtime, had everything: Stars like LaMarcus Aldridge and Russell Westbrook performed to their absolute best, the Spurs showed deadly efficiency, Jerami Grant had a breakout performance, and a whole lot more. It's rare that a single game features so many storylines and near-endless excitement, but that's what the NBA does best.
It was evident something special was brewing early on, because the Spurs quite literally could not miss from three. They started off the game shooting 14-for-14 from three-point range — for reference sake, the most three-pointers a team has made in a single game without a miss was seven. If the Spurs decided not to shoot a single three for the rest of the game after their 14th triple went in, they would have doubled the record.

That would have been enough to say this game was special, but a serious case can be made that this will finish as an all-time classic thanks to everything else that happened. For example, this performance is the most amount of points a Gregg Popovich coached team has ever scored.
An exciting game is one thing, but what put this one over the edge were the individual performances spread throughout. We'll get to the player of the game in a sec, but let's give a special shoutout to Derrick White. The Spurs' 2017 first-round pick was thrust into a larger role this season when Tony Parker left for Charlotte and Dejounte Murray tore his ACL. He's come through in a huge way, and Thursday was no different. White wasn't afraid to take shots in big moments, finishing with 23 points, eight assists, five rebounds, a huge block, and the game-sealing steal.
For how great White was, Aldridge went off. The Spurs big man had a career-high 56 points and was near-unstoppable, especially after Thunder center Steven Adams hurt his ankle and Oklahoma City just had no one to guard him. Fadeaway to his right? Bang. Post up move on the left block? Money. Putbacks under the basket? Easy points.
Aldridge was active and accurate, and it paid off big time for San Antonio. His style can be a slog at times, but when he has it going, there aren't many guys in the NBA who can stop him. Tonight, he was at his absolute best.
Beyond those two, Marco Belinelli dropped 19 points off the bench, DeMar DeRozan had 16 points, 11 assists, and eight rebounds in an off shooting night, and both Bryn Forbes and Patty Milles scored 14 points for the victors.
On the other side of things, Westbrook was a monster all night, finishing with a career-high 24 assists along with 24 points and 13 rebounds, because of course he had a triple-double. One of Westbrook's best moments came late in the game when, using the sheer gravity that he pulls when the ball is in his hands, he attracted the entire defense his direction. This gave a streaking Grant a wide open lane to tie up the game and help force overtime.

Grant was phenomenal as well. He's been a solid role guy for the Thunder all season and Thursday was a breakout moment for him. Grant's a legit contributor for Oklahoma City, and longtime watchers of the Thunder probably already knew he was capable of a big game, but even they had to be surprised at him scoring 25 points and pulling down 12 rebounds on national television. Oh, and Paul George went for a quiet 30 points and eight rebounds, while Terrance Ferguson scored 21 points on seven made threes.
It seems unlikely that this game will be topped this season. In order to do that, we'll need to see two teams throw haymakers and guys put forth career nights all over the place. Both squads scratched and clawed for 58 minutes with the hopes of coming out on top. In the end, Oklahoma City just ran out of gas, and San Antonio picked up a gargantuan win.
If there's any consolation for the Thunder, though, it's that both teams will face off again on Saturday. This time, it's in Oklahoma City. Here's to hoping everyone gets some sleep before then.