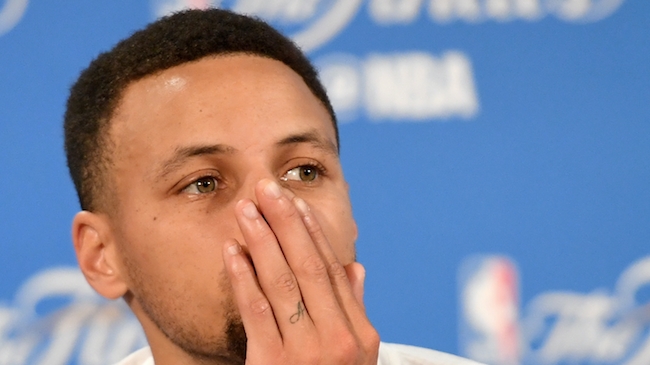 It seemed apparent back then even to casual observers and now, Steph Curry admits there was something wrong with him during the NBA Finals. You may remember that Curry's Warriors, after winning 73 regular season games, were one more win away from a second straight championship and likely immortality before LeBron James strapped the Cavs on his back and Cleveland completed what still feels like a miraculous comeback.
Curry, who is in Guangzhou, China as part of a promotional tour for Under Armour, sat down with ESPN's Darren Rovell for a chat and finally copped to what we all have known for some time.
"I wasn't 100 percent, but who cares? I was playing. I was out there trying to help my team win and that's all that really matters. I've taken advantage of the summer to get right and I still have a little bit of work to go."
Curry injured his kneein Golden State's first round series against the Houston Rockets, and missed a handful of games before returning to rip the hearts out of the upstart Portland Trail Blazers in the Western Conference semifinals. He played an important role in the Warriors' own comebackrom a 3-1 series deficit in the Conference Finals against Oklahoma City, but he was clearly not himself in the Finals, shooting just 40 percent from the floor and missing some key shots in Game 7 that usually are like layups for the two-time league MVP.
Curry also addressed his newest teammate, Kevin Durant, who famously signed with the Warriors back in July. He said that he won't be changing his game or his style at all, and that he's sure that will be fine with KD.
"That's the reason KD joined — knowing we weren't going to sacrifice anything, that we all have to be ourselves to make things work. There will be some adjustments when it comes to the in-game flow and how we work together, but for us to be who we're supposed to be, we all have to kind of elevate ourselves."
(via ESPN.com)