Steph Curry's 2016-17 season is a down year in a way only the reigning two-time MVP can have a down year. Curry is averaging 25.0 points, 4.4 rebounds and 6.3 assists per game on a 46.2/40.0/91.7 shooting split while running point for the NBA's best team. But after averaging 30.1 points a year ago while posting a 50/45/90 split, Curry's 2016-17 seems downright average.
Curry isn't worried about his numbers taking a hit this season, both due to the addition of Kevin Durant and one of the worst shooting slumps of his career coming back from the All-Star break, so long as the Warriors avoid a repeat of last season.
In speaking with Curry, he, like Klay Thompson prior to the break, seemed somewhat relieved to not be dealing with the pressures of chasing 73 wins this season, so that the team's entire focus was on being prepared for the playoffs and redemption.
Curry discussed a variety of topics in his interview last week with Dime Magazine. The first part was about his favorite moments from Davidson's NCAA Tournament run, his advice to mid-majors, and his pick to win it all.
Below is the second part of our interview, in which he talked about passing his father on the scoring list, cooking, the differences between this year and last year, the issue of rest, dealing Kevin Durant's absence and using virtual reality as a practice tool.
You passed your dad recently on the scoring list. Did you have a little fun with him about that and what was the conversation like after you moved ahead of him?
It was honestly really casual. It kind of crept up on us. I didn't know until like the day before that I was going into the Minnesota game like 17 points away or something like that. I was joking around though, cause my dad played 16 years and I'm only in my eighth year, but he still probably thinks that he's the best shooter in the family — which he should. So, he always keeps that over my head. But it's obviously an amazing accomplishment, to be in the family business, and reach what my dad was able to do in his career in eight years and hope to keep it going and continue to make him proud.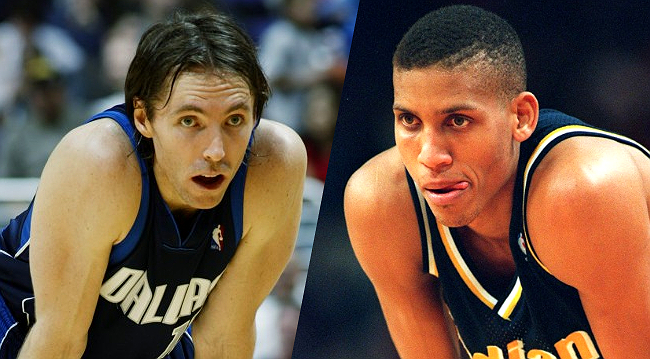 Was your dad one of your favorite players? You obviously were a bit more connected to the league than most kids growing up. Who were the guys in the league that you were a big fan of and modeled your game after?
I had two guys I idolized and wanted to morph together to bring that into my style: Reggie Miller and Steve Nash. I just loved what they were able to do. Obviously, Steve with the ball and his creativity and balance of passing and shooting. Then Reggie with what he was able to do off the ball and his clutch gene and his competitiveness. I wanted to kinda morph those two guys together.
Oh, and for some reason I loved Bryon Russell. I don't know why, but he was one of my favorite players and to this day I couldn't tell you why.
Just to shift gears real quick. Your wife, Ayesha, is well-known as a really good cook, what's your favorite dish she makes?
My favorite dish she makes for me is chicken parm. But she has this brown sugar chicken recipe that's her staple and if that's ever on the menu for the night, it's going to be a good night.
What's the best thing you can cook?
Not a lot. I'm a one-trick pony. I can make this like egg noodle Italian sausage pasta.
I do have some Warriors questions. If you had to describe this season in one word, what would it be?
It's just different. But the same goals. Every year it just kinda, you take a different journey, it takes a different vibe. Right now the focus is just continue to get better and getting to the playoffs healthy and energized, ready for another deep championship run. We're not chasing 73. We're still chasing the number 1 seed to lock up homecourt advantage, but it's been kinda, a little bit more of a roller coaster and more of a normal regular season experience. Which is fine, as long as we're ready to go come April.
Having been to two straight NBA Finals, y'all have played as much basketball as anyone else. What are your thoughts on balancing the rest and trying to get that one seed as you mentioned?
I mean, as we stand right now, we still have 16 games left and whatever, a one game lead in the chase or whatever, but that's still plenty of time to control our own destiny as far as homecourt advantage but not wearing ourselves out in that process down the stretch of the season. Obviously coach [Kerr] is a mastermind when it comes to managing our minutes and our rotations and rest and what not. Because as players we want to be out there and play every night. But energy can't be an issue once we get to the playoffs. We have to understand what it takes, and we do understand what it takes to win a championship and finish out April, May and June as strong as we have this season.
I don't think people quite realize how little actual practice time you guys get during the season. There are shootarounds and practices here and there, but a lot of times cutting a practice here or there is a way teams will give out rest. You have a new virtual reality thing with Degree that's out. How much have you experimented with virtual reality and is it something you think can be a legitimate way to supplement on-court practice time you otherwise miss out on during the season?
It could be. It's still a work in progress in how you can actually implement that to, as players make us better. I've actually tested it out a couple of times with different approaches, whether it's seeing a play unfold up close and personal to train your mind to make the decision a lot quicker and sooner. Whether you're doing mental reps in between games is definitely some way to keep your mind strong in how you think the game. With the 360 degree video it could just spur more imagination and creativity with a new move you want to try or something like that. It's definitely ways to implement it and that's gonna continue to grow as technology advancements keep happening.
You seemed to have finally found that groove and then KD went out. What are the challenges with him out for the next few weeks in figuring out roles on the court and filling that void as you make the playoff push?
It's different because there's different combinations on the floor, different combinations of guys that coach can throw out there in KD's absence. But, you know, our identity as a team doesn't change and our core guys that are out there for significant minutes know how to win and know how to put together that effort we need to finish out the season strong until KD gets back and we get our full squad. Can't forget who we are and even though it's a different journey this season we can't lose that confidence.