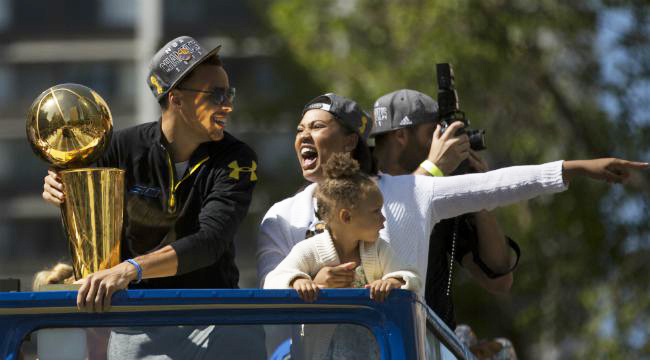 The above picture was taken at the Golden State Warriors' victory parade from this past summer, but it may as well be depicting Stephen Curry and his wife Ayesha's reaction to people getting mad on Twitter. They may not be too busy on top of the world to engage with the sullied masses, but they are too high up to get dirty. So, when Ayesha spouted off about not liking revealing clothing and riled up people on Twitter, you can imagine how little they'd care.
But still, CSN Bay Area's Rosalyn Gold-Onwude got Steph to weigh in on the latest online kerfuffle:
Hey, that's us (the Internet)! We made Steph laugh! Good job, everyone!
Curry's reaction to all of this is perfectly reasonable, except for the part where he says he was surprised. C'mon, Steph, you know no one with any sort of following can express their opinion on Twitter without getting a backlash — especially the sort of opinion that comes with cry-laugh emojis. Those are always the harbingers of heated online bickering.
Among all this nonsense, Steph still manages to bring laser focus to the court every night, as his Warriors won again on Sunday to bring their record to 22-0. To stay undefeated on the court while still finding time to win on social media is a true achievement in this day and age.
(H/T Complex)
Now Watch: Who Is The Better NBA Guard: Curry Or Westbrook?