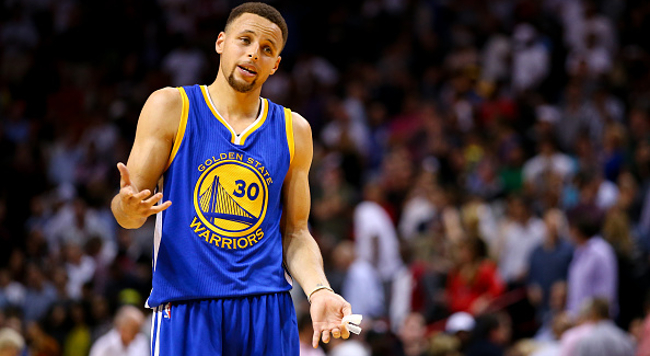 We won't waste a lot of digital ink charting out the Byzantine complexity involved in trying to quantify a given player's value to his team, or revisiting the old familiar arguments about which major factors should weigh more heavily than others when it comes to awarding the league's most prestigious individual accolade, i.e. the NBA MVP trophy. It's well-trodden territory. Suffice it to say that a number of criteria come into play, such as available statistical data (both basic and advanced), team success, recent play, strength of schedule, that rather nebulous quality we like to call "leadership," clutch play, defense, hustle, overall basketball IQ, championship contender status, toughness, entertainment factor/GIFability, a healthy amount of subjectivity and/or confirmation bias on our part, "what have you done for me lately," and much, much more.
So, here are our top five MVP candidates through March 6. We've kept the list to the top five so that we're only discussing the very cream of the crop and because this is a bi-monthly column, so that we can focus more narrowly on what's happened in just the past two weeks. We'll still briefly discuss a handful of other players who just missed the cut, but deserve a shout-out nonetheless.
1. Steph Curry
Despite the Warriors' stunning loss to the Lakers on Sunday and Curry's 1-of-11 outing from downtown, these rankings are a mostly futile enterprise at this point, because Curry is going to run away with the MVP award for the second year in a row and could possibly become the first player to win it by unanimous vote; although, there's always some spoiler who will find a reason not to vote for him, regardless of how flawed the logic. These rankings endure simply as an opportunity to acknowledge players who are at or near the top of their respective powers.
But just to be thorough, let's list some of Curry and the Warriors' recent highlights — they got right back on track with a win against the visiting Magic Monday night. They became the fastest team to 50 wins and the fastest team to clinch a playoff spot. Then, Curry beat Kyle Korver's record of most consecutive games with a three-pointer, beat his own record for most threes in a single season, and tied the NBA record for most threes in a game with 12. And that was just last week. Oh, and the Warriors are still on pace to break the '96 Bulls' 72-win record.
The reigning Defensive Player of the Year missed a handful of games after the All-Star break, but since returning, he's been on a blistering streak: 26.0 points, 8.5 rebounds, 3.2 assists, and 2.2 steals per game on 50.9 percent shooting from the field and 45.7 percent from downtown. His Spurs have won eight-straight and nine of their last ten (they lost Monday night after this piece had been filed); they're the only team besides Golden State to have already clinched a playoff spot, and they're on pace to win 69 games this season. Like the man himself, there isn't much more to say.
3. LeBron James
Maybe cryptic tweets — that kinda, sorta, vaguely might have something to do with your team's current struggles, or your own frustrations with certain teammates — might not be the best idea given the media's relentless scrutiny of all things Cavs-related. Especially when, in your absence, your team got waxed by an inferior Wizards team to the tune of 30 points. Before LeBron's controversial midweek jaunt to South Beach, Cleveland had lost three out of their last five, one of which came against a surging Toronto Raptors team that was just two games behind them for the No. 1 spot in the East.
The Cavs, however, bounced back and got desperately-needed wins against the Washington Wizards and Boston Celtics on Friday and Saturday, respectively. And most teams would kill to be in the position the Cavs are in, i.e. first in the Eastern Conference standings with a record of 44-17, good for third in the NBA behind only the Warriors and Spurs. As for LeBron's numbers (24.8 points, 7.3 rebounds, 6.6 assists), they're just about on par with all four of his previous MVP campaigns. And just like all season, they somehow pale in comparison to what Curry's doing.
4. Chris Paul
Arguably no player in the top five of this list has had to overcome more than Chris Paul this season. The Clippers came sputtering out of the blocks, then lost Blake Griffin — one of the league's top ten players — for a large chunk of the season. But during that stretch, Paul has played like a man possessed. His 21 points and 13 assists took a backseat to DeAndre Jordan's monster double-double in a huge comeback win over the Thunder last week, but it was mostly Paul who was putting Jordan in a position to flourish, as is standard operating procedure. Since the All-Star break, he's averaged 23.3 points, 11.4 assists, 5.5 rebounds and nearly two steals per game on 50.8 percent from the floor and 38.3 percent from distance. Monday night was no different:
5. Kevin Durant
It's been a rough week for Kevin Durant and the Oklahoma City Thunder. After losing a heart-breaker to the Warriors in overtime last Saturday, they squandered a 17-point fourth-quarter lead to the Clippers Wednesday. Then, in their rubber match against Golden State on Thursday, they were again unable to get it done despite being within striking distance late in the fourth quarter.
Nonetheless, Durant put up ridiculous numbers in those games. He had 37 points, 12 rebounds, and five assists in their first loss to the Warriors; 30 points, 11 rebounds, and five assists against LAC; and 32 points, 10 rebounds, and nine assists Thursday against GSW. However, he was responsible for 14 total turnovers combined in those two losses to the Warriors.
Notables
Two weeks ago, we heralded the arrival of Damian Lillard to the MVP race, late in the game as it is. That's because his individual performances, along with his team's surprising success, can no longer be ignored. Since his All-Star snub, he's averaged 32.8 points (up from 24.3 pre-All-Star break), his field goal percentage has gone from 41.8 to 48 percent, his three-point efficiency has jumped from 36.3 to 41.3, and he's scored 30 or more in nine of his last 11 games. The Blazers dropped three-straight last week, but before that, they'd won 14 out of 16 and are in seventh place in the West. But they'll need to get back on track soon as there are four teams vying for those last three playoff slots.
The Toronto Raptors are just two games behind the first place Cleveland Cavaliers in the East, and last week, Kyle Lowry gave his conference rivals the business when he went off for a career-high 43 points and the game winner.
Kyle Lowry puts the Raptors up, and gets his career high in points scoring his 43rd point. pic.twitter.com/TCb0aT5zdH

— ⓂarcusD (@_MarcusD_) February 27, 2016
Like Durant, Russell Westbrook had a rough go of it last week in the Thunder's three high-profile losses, but he's been so consistently dominant all season and such a staple of these rankings that it'd be a crime to exile him from the discussion for a few recent indiscretions. Plus, he capped off the week with his tenth triple-double of the season (15 points, 10 rebounds, 11 assists) in a much-needed victory over the Bucks.
Back East, Dwyane Wade has quietly entered the equation, as well, as Miami has won five in a row and eight of their last ten. Thanks to that recent surge, the Heat snuck into the fourth seed in the Eastern Conference while no one was paying attention, just a game behind the Celtics for third place. This despite Chris Bosh's recurring health problems and uncertain status moving forward.