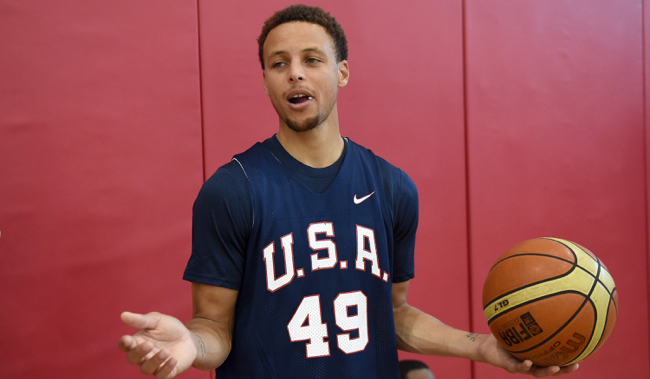 According to the San Jose Mercury News, Steph Curry will not participate in the 2016 Olympics.
The story cites sources who say Curry wants to let his injured right knee heal.
While Curry is opting out because of health reasons, two of his Golden State Warriors teammates may not play for a different reason.
Andre Iguodala and Klay Thompson could opt out as well due to concerns from the Zika virus epidemic in Brazil. Neither have told USA Basketball they are out and are still wanting to play. But they are keenly watching the developments.
The Zika virus is a concern for athletes in all sports, including other NBA players, but now it looks like it could affect USA Basketball.
There was talk about canceling or relocating the Olympics because of these health concerns, but that won't happen.
Several health organizations are calling for the games to be moved for health concerns, as the virus — most commonly contracted by mosquito bites — has been known to cause neurological issues in adults and birth defects. A gathering of athletes from all over the world in Brazil, it is believed, could help spread Zika when those athletes return home.
One person it will not affect is Draymond Green, who won't be deterred by a potentially life-altering illness and is still willing to go to Brazil if asked.
Steph confirmed the news later on Monday in a statement, which you can find at NBA.com:
"After a great deal of internal thought and several discussions with my family, the Warriors and my representatives, I've elected to withdraw my name from the list of eligible players on Team USA's preliminary roster for the 2016 Summer Games in Brazil. I recently informed Jerry Colangelo of this decision."

"My previous experiences with USA Basketball have been incredibly rewarding, educational and enjoyable, which made this an extremely difficult decision for me and my family. However, due to several factors — including recent ankle and knee injuries — I believe this is the best decision for me at this stage of my career. It's an incredible honor to represent your country and wear 'USA' on your chest, but my primary basketball-related objective this summer needs to focus on my body and getting ready for the 2016-17 NBA season."
(Via Mercury News)