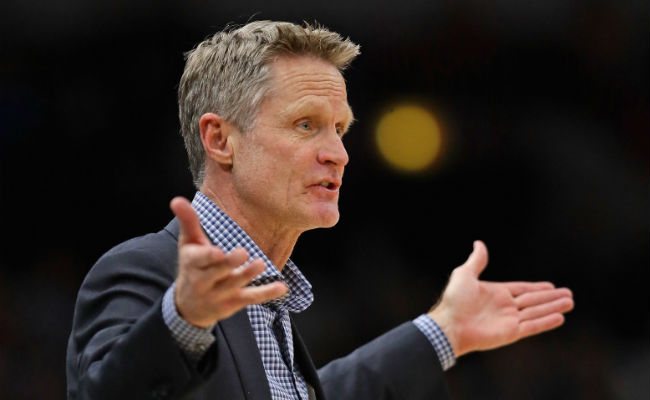 Steve Kerr has a lot of respect for the Minnesota Timberwolves as a basketball team, but that respect doesn't extend to their uniforms. The head coach of the Golden State Warriors — one with some of the best-designed uniforms in the NBA — decided to poke fun at Minnesota for being one of those not so aesthetically lucky teams on Wednesday.
Kerr was asked about the Timberwolves, who his Warriors play in Golden State on Thursday night. But the phrasing of the question allowed to have a bit of fun and avoid answering for a bit. When asked what he "saw" of the Timberwolves, he zeroed in on their Statement jerseys, which is a bright, neon green mess.

"I've seen some really ugly uniforms,"Kerr said. "The lime green, the neon lime green?"
Kerr tried to hedge a bit and explained that it's the all-green look that's too much for him.
"I like it as a secondary color — Seahawks, you know? The Seahawks have grey uniforms," Kerr said. "Not sure about the all (green). Though the Seahawks wore those as well, like on a Thursday night."
Kerr's right, by the way, the Seahawks wore those dismal all-neon numbers on a Thursday Night Football 'Color Rush' game, but that was a mistake, too. Here's what those neon Wolves jerseys look like, in case you were curious.
Listen: they're not great. The Timberwolves' overall rebrand here isn't all that inspiring, and we've talked about even their basic two jerseys needing work. But the good news for the Timberwolves is that Kerr spoke highly of the team itself.
"Not a huge fan," Kerr said. "But the team's good. The team's better than those uniforms. They're tough and they're getting better every night."
See? Not all bad from Kerr.