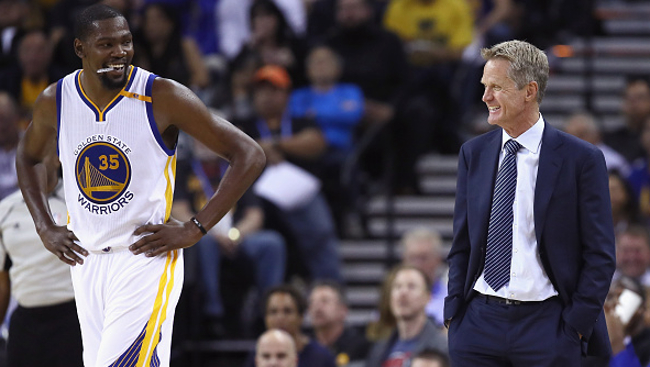 There's been a lot of hemming and hawing about the Warriors overexerting themselves last season in their chase for 73 wins. It's tempting to call it an excuse for their eventual Finals collapse, but it's hard not to see the corollaries between their late season/playoffs bloodbaths and the way they were mired in shooting slumps and defensive miscues when it mattered most.
The question of 70-plus wins, however, is inescapable once again now that they've added Kevin Durant to the mix, but having learned from past mistakes, head coach Steve Kerr says that win total is emphatically not among their top priorities going into next season.
Via Anthony Slater of the San Jose Mercury News:
"We didn't roll our guys out there for 40 minutes," he said. "You look at the minutes per game — our top guys were down there at 34, 33. So minutes were fine, very similar to the year before. But it was a different sort of emotional feeling. I don't think we'll have that this year. We've kind of been through that. We'd rather win a championship than set a record."
Kerr might be right about managing his players' minutes, but it's difficult to gauge whether physical fatigue was indeed a factor. Steph Curry's injury in the opening round against Houston might very well have been a freak occurrence, impossible to anticipate or prevent. The "emotional" fatigue he alluded to is another story altogether.
When the Warriors were in the season's stretch run, with the all-time record in sight, every game felt like a playoff battle. They easily dispatched the Rockets in the opening round even without Curry, but the semifinals against the scrappy Blazers would be a tougher series than they bargained for, despite the 4-1 outcome.
They were running on severely-depleted resources the rest of the way, while Curry simultaneously tried to play himself back to full health (and it's debatable whether he ever actually did so). So don't be surprised to see a considerably more cautious approach to the season for the Warriors. Making three straight Finals appearances will be a Himalayan task, even for a relatively young team with one of the best starting fives in NBA history.