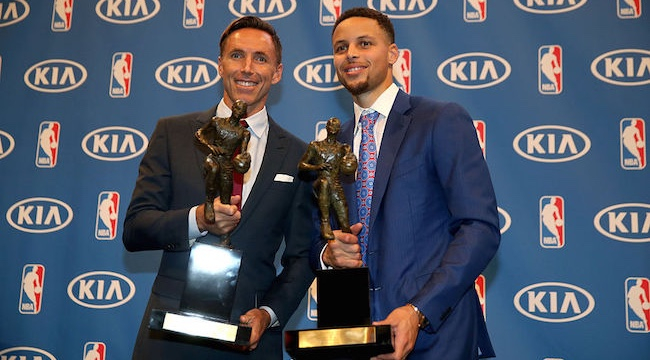 It still doesn't feel quite real that Kevin Durant is a member of the Warriors. Golden State, coming off an historic 73-win season, acquired arguably the best player on planet earth without giving up one of their top three players. The stars have never aligned so perfectly for an NBA franchise.
When the Heat created their super team in 2011, there were clear flaws in the roster construction. Really, it took nearly two full seasons for LeBron James and company to iron out their issues and find a perfect team identity. That may not be the case with Golden State. Durant fits perfectly into the Warriors' system and his skill set is complementary to the stars around him.
It's difficult to arrive at any conclusion from preseason, but the Warriors blew open a 50-point lead against the Clippers in just their second preseason game. Steve Nash, who joined Golden State as a player development consultant last season, told Connor Letourneau of the San Francisco Chronicle that this year's Warriors could be the best team in NBA history.
"Practice has been pretty sloppy, so last night was something I don't know if coaches could've predicted before the game," Nash said after practice Wednesday. "We're thinking, 'Man, this is going to take a while. We may get punched in the face a few times here.'"

Golden State's 120-75 blitzing of Los Angeles underscored the team's potential. When spreading the floor and performing at top efficiency, the Warriors are unmatched. Nash, a future Hall of Famer, conceded that they "potentially could be better than any team in NBA history."
Nash's playing days give him a unique perspective on basketball's latest and potentially greatest super team. His early days playing in Dallas with Dirk Nowitzki is the best modern comparison to the imminent all-court shooting threat Durant and Steph Curry will pose to defenses – and Golden State has another marksman of the same caliber in Klay Thompson, too. This Warriors roster supersedes that Mavericks roster, which routinely ranked among the league's best offenses, in almost every way. It's no wonder Nash thinks this could be the greatest team of all time.
(Via San Francisco Chronicle)