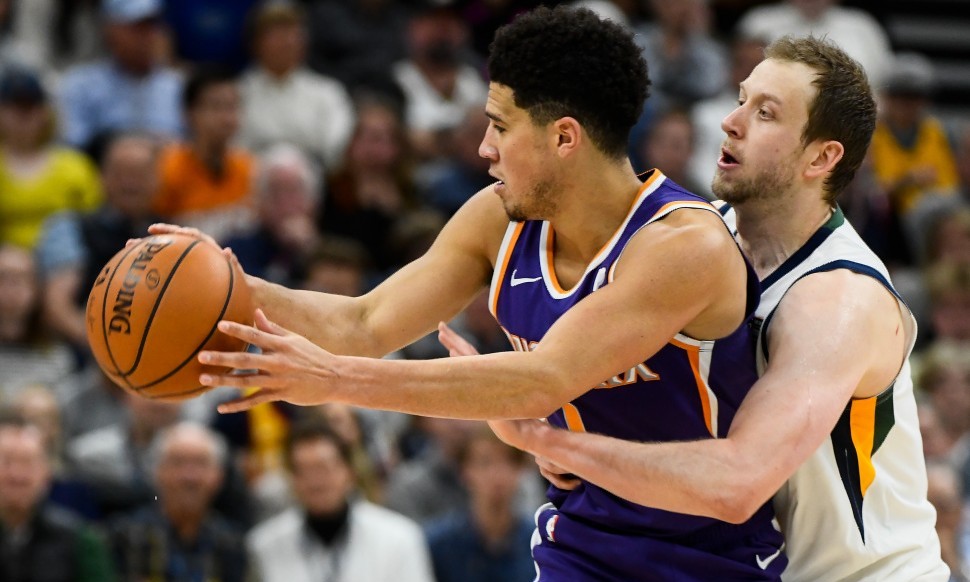 The Suns visited the Jazz on Monday night and the result was a 125-92 win for Utah.
However, while the Jazz dominated en route to an easy win, the focus (even for the Jazz faithful) in the fourth quarter was on Suns guard Devin Booker and Jimmer Fredette. The Utah crowd, with the game already decided, wanted nothing more than to see the former BYU legend get buckets, but he struggled to oblige, going 1-for-10 from the field and not getting his first points until he made it to the free throw line late.

Booker, on the other hand, was more than happy to put on an individual show as he scored 59 points on the night, going 19-for-34 and accounting for an absurd 64 percent of his team's points in the loss.
Down the stretch, the Jazz recognized exactly what was happening and decided to put the clamps on Booker by sending double and triple teams his way. Booker still managed to hit a couple shots, but when he passed, Fredette was more than happy to hoist to far more disastrous results.

In the closing minutes, there were a couple of possessions in which you could see Fredette gunning for baskets while Booker tried desperately to get the ball back so he could go for 60.
After the questionable tactics used to get him 70 points in Boston previously, the Jazz weren't too keen on that idea and decided to swarm Booker and after the Suns intentionally fouled to get another possession for him, Utah returned the favor in fouling someone else before they could inbound the ball to him, and then ran the clock out to keep him on 59.
It was truly a sight to behold in Utah, as the Jazz and Jimmer managed to spoil a potential 60-point night from Booker, all the while the Utah faithful tried to will Fredette to success while their team torched the Suns.