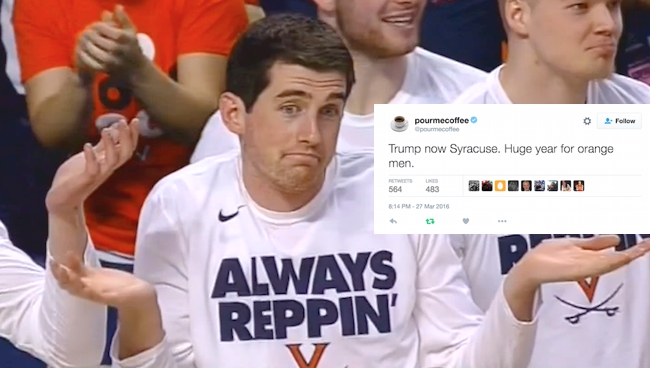 The Syracuse Orange were down by 14 at halftime of their Elite Eight game against Virginia, but somehow clawed their way back into it thanks to a 25-4 run in the second half. They finished off the Cavaliers with a 68-62 win to advance to the Final Four as a #10 seed. Needless to say, for Virginia, it was a massive choke job. And, boy, did the internet ever let them hear it.

It wasn't lost on anybody that this normally awe-inspiring comeback tale would be amazing for any other ten-seed, but it also wasn't lost on anybody that Jim Boeheim and the Syracuse Athletics Department were penalized last March for violations dating back to 2004. As a result, they were required to vacate 108 wins, give up 12 scholarships, and suspend Boeheim for the first nine ACC games of this season. And now he's in the Final Four.

Finally, there's always the folks that have no real rooting interest, but always love to see chaos.
There's no doubt that this will be a tough one to come back from for Virginia. While last year was disappointing because they got knocked out so early as a No. 1 seed, this year is somehow worse. Sure, they made it to the regional final, but then to just outright collapse isn't really much better. Better luck to UNC, the one remaining No. 1 seed left vying for a shot at the Final Four.