It bears repeating now and again, if only to yourself, that we're officially in an Olympic year. There are many reasons to be excited about this, not least of which is that it allows the best American players in the NBA to come together and play on one monster team. It might not be the Dream Team, but from the 30 finalists revealed, any team of 12 will be historically cool.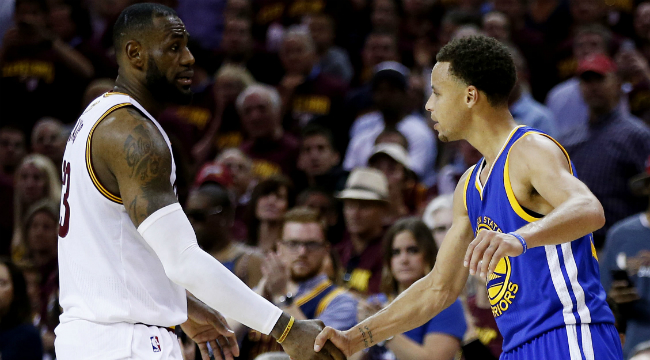 When presented with the opportunity to draft a fantasy team of only superstars, we're helpless to resist and we're not ashamed for it. So, let's pick our team of 12, as if we have every pick in the draft. The first pick is as obvious as it gets.
1. LeBron James
Do we need to discuss this? Moving on.
2. Stephen Curry
At this point, the rest of the roster could be the Philadelphia 76ers and Team USA would still be the favorite for the gold medal. Imagine having to gameplan for both Curry and LeBron on the floor at the same time — it won't be a fun time for any coach.
3. Kevin Durant
Thank goodness we've moved past the era of basketball in which you'd have to pick between LeBron and KD for the small forward spot. Both of them are physically overqualified for the three anyway. And at this point, you could stack the roster of Duke behind this team and it would still be a gold medal favorite.
4. Chris Paul
Even though CP3's the fourth pick (and could easily be lower), can you imagine anyone else being the floor leader if he's out there? He's still one of the very best point guards in the game, and this whole team can't be small forwards (though it could be and they'd probably be fine).

5. Kawhi Leonard
Not only is he probably the best defender in the NBA, he's also second in the league in three-point percentage. He might not start, and he definitely won't be leading the team in attempts, but he's the ultimate glue guy — and even that undersells his skill set. Honestly, he could have been the third pick, and he should be getting a lot more MVP chatter.
6. Anthony Davis
He's still a heck of a shot blocker, but Davis isn't the all-consuming defensive monster we thought he could be (although that could be more the fault of his teammates). Still, a pick-and-roll with him and Paul or Curry is, once again, completely unfair. He can dunk over just about anybody on Earth, and has a reliable mid-range jumper. Whatever defense he does provide will be plenty.
7. Russell Westbrook
Every Team USA needs its wild card — the Guy Most Likely To Start An International Incident (GMLSII), let's say — and it's between Russ and two other guys on this list for who'd stir the most sh*t. But it helps that Russ is also an absolute freak capable of winning a game by himself. Hopefully he realizes that he won't have to.

8. DeMarcus Cousins
Our second of three candidates for GMLSII, Boogie can bully just about everybody (save for maybe Boban Marjanovic) on the block. With all the stars around him, Cousins will be motivated to defend well, which he can do. He can also handle the ball, knock down open jumpers, and generally do big guy stuff better than anyone else. If Mike Krzyzewski starts a center, it should be Boogie.
9. Jimmy Butler
He simply doesn't have any holes in his game left. Obviously, everyone on this team works their tail off, but Butler could make a serious case for being the hardest worker on the team. And if someone tries to take that title from him, that's only good for the whole squad. Jimmy Buckets' transformation into a superstar is complete.
10. Paul George
Like Butler, George has ascended to superstardom by becoming one of the most complete players in the game. He'd be just as comfortable spotting up around pick-and-rolls as he would handling the ball, and he can guard multiple positions. He allows for maximal versatility. Hopefully he'll take the spot without any concern for a repeat of his pre-FIBA injury.

11. Blake Griffin
Before his injury, Blake was once again having one of the best seasons of any power forward in the game. He can still dunk on people (he's probably the second-best candidate to victimize the next Fred Weis, behind Westbrook), but it's his skill as a passer that often gets overlooked, and what would allow him to fit with all these stars.
With one spot left, we have three point guards, one shooting guard, four small forwards, two power forwards and a center. Again, we're past the time when all of these positions are hard and fast (we're sure Curry and Paul could find a way to play together), but the last spot should go to a big guy — unless LeBron and/or Durant is cool with logging heavy minutes at power forward. Sorry to John Wall, Klay Thompson, James Harden and Kyrie Irving. They're all incredible players, but that's the nature of Team USA. With that in mind…
12. Draymond Green
Speaking of ascensions to superstardom, Dray has fully arrived. And to top it off, he's the third and final GMLSII. If this was the Dream Team, he'd be the Barkley — not to mention his defense and distribution. We know that he can work as a center in run-and-gun lineups, and Team USA loves to run and gun. On a team of Swiss Army Knives, he's the most… Swiss, I guess? Either way, he can fill in the gaps that the other stars leave behind, and do so with all the swagger that Team USA represents.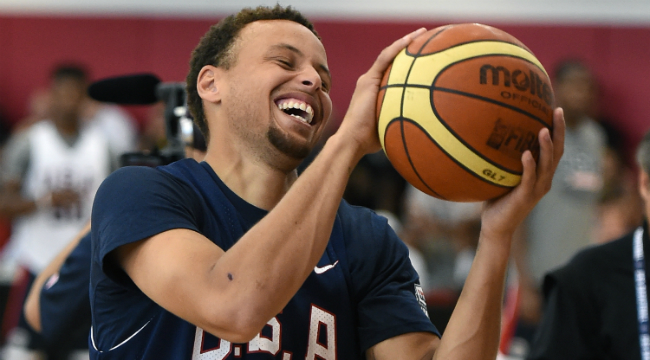 So, here's Team USA, brought to you by DIME:
Guards: Stephen Curry, Chris Paul, Russell Westbrook
Wings: LeBron James, Kevin Durant, Kawhi Leonard, Jimmy Butler, Paul George
Bigs: Anthony Davis, DeMarcus Cousins, Blake Griffin, Draymond Green
Most difficult snubs: James Harden, Andre Drummond, John Wall