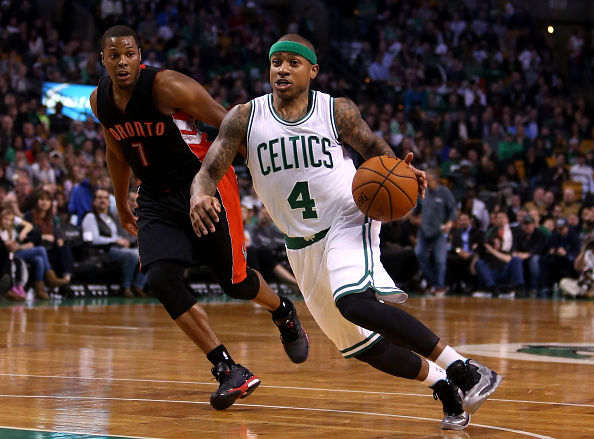 The playoffs weren't a very fun time for Isaiah Thomas. Not only were his Celtics swept in four games by the emerging juggernaut that is the Cleveland Cavaliers, but Thomas struggled mightily from the field, shooting just .333 during the four-game series. But while Thomas' first trip to the postseason didn't go as planned, he still has a lot to be optimistic about.
After playing well but not quite fitting in Sacramento and Phoenix, Thomas may have found his true home in Boston. He's been a major offensive force for the Celtics, and appears to be a huge piece for them going forward.
Thomas became a different player when he was traded to Boston. Granted, he's always been good at putting points on the board, but in Boston, he became an unstoppable scoring machine. As the Sixth Man for the Celtics, Thomas averaged 19 points a game in just 26 minutes. That translates to 26.4 per-36 minutes. To put that in perspective, Stephen Curry averaged 26.2 points per-36 minutes this season. LeBron James averaged 25.3. Granted, it was a small sample size (21 games), and it doesn't necessarily mean the 26 year-old would score that much if he were to actually play 36 minutes a night. He was obviously an offensive sparkplug for the Celtics nonetheless, though, and a huge reason why they made a surprising run to the playoffs.
But while Thomas' raw offensive numbers are strong, they wouldn't have the same impact if he were getting them inefficiently. That's where his stats become a bit more eye-popping. He finished the 2014-15 season with a PER of 20.6, and a Win Shares per 48 Minutes of .169 – both career-highs. If you focus just on his 21 games in Boston, it gets even better. With the Celtics, he posted a 22.3 PER and .185 Win Shares per 48 Minutes. All of this paints a simple picture: Isaiah Thomas is an extremely efficient offensive player.
Thomas's offensive efficiency might be a bit surprising at first when you consider that he's a fairly pedestrian shooter. He shot a not-particularly-noteworthy 42 percent from the field in 2014-15. But the big reason for his efficiency is his ability to get to the line and make free throws. The Washington product drew 5.2 free throws per game this season and made 4.5 of them, good for a percentage of 86.8. While Thomas is not quite the hyper-efficient scorer that James Harden is, his game follows a similar template: neither are amazing shooters, but they are both relentless when it comes to attacking the basket and drawing fouls.
So, these stats beg a simple question: just how good is Isaiah Thomas anyway?
If all we're focusing on is his time in Boston, it can be hard not to get carried away. His numbers with the Celtics are mind-boggling, but they may be overstating how good he really is. At the same time, it's getting harder and harder to deny that Thomas is one of the best scoring point guards in the league. If you let the implosion of the Suns' three point guard experiment cloud you into thinking it didn't work, you may want to revisit the numbers.
Despite awkward positional overlap with Goran Dragic and Eric Bledsoe, Thomas still managed to average 15.2 points in 25.7 minutes per game. When he got to the Celtics, he was even better, likely because he was in a situation where he felt more comfortable. No longer surrounded by Dragic and Bledsoe, Thomas was able to run wild and free. And as a result, he played the basketball of his career.
When discussing Thomas' potential going forward, I won't bore you with needless labels like "star" or "elite." Let's just say that over the past two years, it's hard not to get the impression that Isaiah Thomas is really, really good at basketball. He's not the best defender, but his relentless offensive attack more than makes up for it.
As encouraging as the Celtics playoff run was, the big elephant in the room is the lack of a true franchise player. And while Thomas won't ever be that type of all-encompassing force, his incredible numbers make it hard not to wonder if he's quickly become a foundational piece for one of the league's up-and-coming teams.
[NBA]