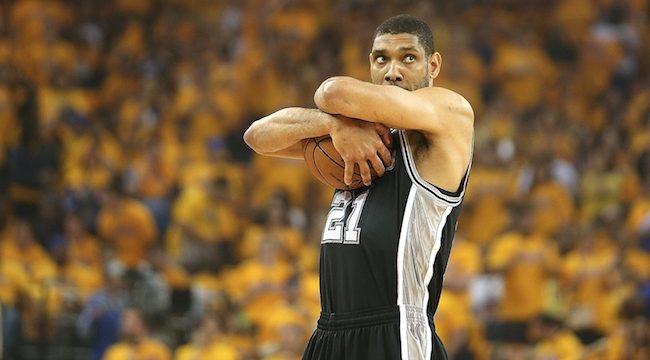 The most highly-anticipated regular season match-up in recent history is already falling short of expectations. Well, at least it is for those who foolishly counted on the San Antonio Spurs playing tomorrow's game at full strength.
Tim Duncan will miss his team's road tilt against the Golden State Warriors on Monday with a sore right knee. San Antonio announced the news on Twitter early Sunday afternoon.
The Spurs, of course, have made a habit of sitting key players in big games over recent years. In the most famous example, Gregg Popovich sent Duncan, Tony Parker, Manu Ginobili, and Danny Green home just hours before a nationally televised game against the Miami Heat on November 29, 2012 – a decision for which San Antonio was fined $250,000.
But the league has warmed to managing the wear and tear of star players in the interim. Golden State, for instance, scratched a healthy Draymond Green from the lineup in a loss to the Denver Nuggets earlier this month, and didn't have a single player log even 33 minutes per game en route to a dominant 67-15 regular season last year.
Duncan, notching a career-low 25.9 minutes per game this season, missed his team's win over the Phoenix Suns on Thursday due to rest before playing 21 minutes in an easy win over the Los Angeles Lakers one day later. Basically, it's unclear whether the future Hall of Famer is actually suffering from the type of pain that would normally keep him off the floor or if the Spurs are opting to play their cards close to the vest against their likely Western Conference Finals foes.
At the same time, though, it's safe to say that Duncan is feeling a fair share of discomfort. He's 39 years old and smack in the middle of his 19th season, after all.
San Antonio and Golden State tip-off from Oakland at 10:30 EST. And despite Duncan's absence, one should expect fervent intensity and top-notch play at Oracle Arena – just resist the urge to glean any big-picture takeaways from a game missing one of its most important players.