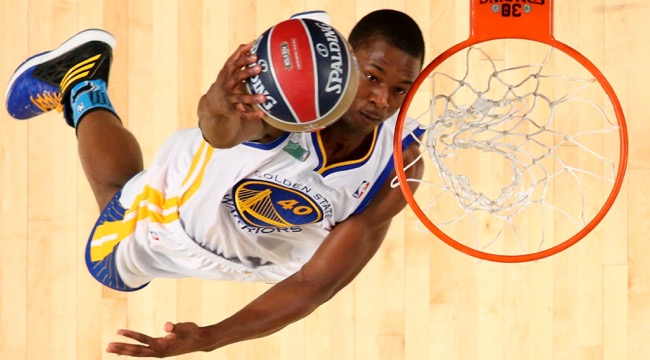 You already know who the big-name free agents are going into the summer of 2016. Half the league will be lining up to offer Kevin Durant a dump truck full of cash, but only a select few can offer him a legitimate shot at the one thing that's eluded him so far, an NBA Championship. And then, of course, there is LeBron James, who is only technically a free agent, as he signed a two-year deal this summer with the Cavs (with an option for the second year). So he'll assuredly reap the benefits of the skyrocketing salary cap over the next couple of seasons, too. There is a 99.999 percent chance he re-signs with Cleveland, so the other 29 teams shouldn't get their hopes up.
But LeBron isn't the only one set to cash in on the TV money next summer. There's a whole second tier of players who will hit the market in 2016 and, because of the economic climate, will make out like bandits…whether they deserve it or not. Kevin Pelton of ESPN.com has compiled a helpful cheat sheet of the free agents who will find themselves in the right place at the right time to ensure their long-term security, both on the court and in their pocketbooks.
Arguably the two best under-the-radar free agents next offseason – Harrison Barnes and Jordan Clarkson – also double as the most interesting scenarios. Here's more from Pelton:
"Barnes figures to be one of the trickiest free agents to value next summer. He plays an important role for the defending champs, who relied on Barnes' ability to battle bigger opponents in the post when they went small. Outside a system with teammates to create for him, however, Barnes might struggle offensively as he did his first two NBA seasons. It's not a coincidence that his shooting percentages improved in 2014-15 along with his rate of assisted field goals. The Warriors would have a hard time justifying paying Barnes more than the more accomplished Draymond Green ($15.3 million in 2016-17) and Klay Thompson ($16.6 million), but a big offer sheet from another team could force them to do so — and that possibility might keep Barnes from signing an extension this fall."

"Because Clarkson will be a free agent with two years of experience, he'll be subject to the so-called 'Arenas provision' limiting other teams from offering more than the mid-level exception as a starting point on an offer sheet. In year three, however, teams can offer Clarkson what would be his maximum salary — somewhere in the ballpark of $23 million, depending where the cap falls — setting up the possibility of a three-year, $34 million offer similar to the one the Houston Rockets used to acquire Omer Asik and Jeremy Lin as restricted free agents in 2012. Or teams could go an additional year and offer four years and up to around $58 million."
All of this, of course, is contingent on how they perform next season. Both are coming off banner years. Barnes has the luxury of filling a role – albeit a crucial one – on a team filled with stars, although as Pelton points out, he could be tempted by the opportunity to play a larger role elsewhere, as well as the giant paycheck that will accompany that. We'll know more about how this will play out after Halloween, which is the deadline for Barnes to sign an extension or become a restricted free agent next summer.
For Clarkson, things are a little more complicated. After drafting D'Angelo Russell, acquiring Lou Williams, and getting Kobe Bryant back from an injury, the Lakers are brimming in the backcourt. Something will have to give. There's simply not enough minutes or touches to go around. Depending on how the chips fall, Clarkson could see a drastically reduced role next season.
Rounding out Pelton's list are other names like Michael Kidd-Gilchrist, Terrance Jones, Donatas Motiejunas, and Meyers Leonard, the latter of whom is the only member of the exclusive 50-40-90 club last season and is set to assume a much larger role with the Blazers following LaMarcus Aldridge's departure and his shockingly efficient offensive production in a minuscule sample size.
These are all intriguing prospects, but it can't be emphasized enough that a lot could happen between now and next summer.
(Via ESPN)