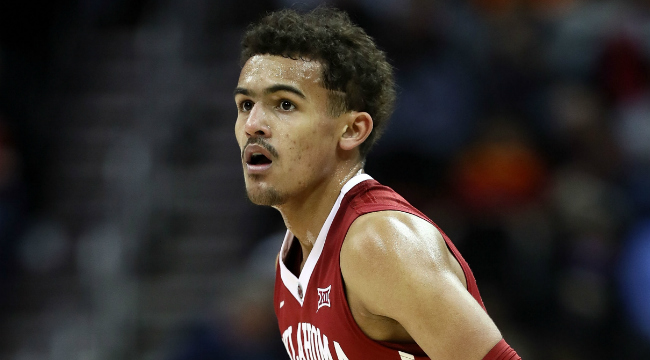 Ever since Trae Young became the most entertaining college basketball player in America, one name has popped up as a comparison: Golden State guard Steph Curry. The comparisons between the two aren't exactly hard to make, even if it's a bit unfair to Young to compare him to the greatest shooter the sport has ever seen.
The comparison is also inherently flawed because Young doesn't try to directly model his game after that of Curry. While he admits there are elements of his game similar to those of the Warriors' talisman, Young told Shams Charania of Yahoo Sports that he tries to model what he does on the floor after a different two-time MVP point guard.
"I try to be Steve Nash more than Steph," Young said. "I do blend Nash and Steph a lot, but my favorite player growing up was Steve Nash. I get a lot of Steph comparisons, and I agree I do have a few attributes that are similar to Steph. But Steve Nash is a Hall of Famer, though, and Steph will be one day, too. I know I always have to show and prove my passing ability. I have to get better on that aspect, and I definitely work on that a lot."
During his stint at Summer League, it was evident that Young's best asset right now is his ability to pass the basketball. That's not to say his shooting — which was up and down all Summer League — won't one day become his trademark skill, but for now, the playmaking that he ostensibly copies from Nash is farther ahead than the Curry-esque shooting.