Trey Burke grew up a huge Allen Iverson fan. Burke remembers watching sports growing up and being fascinated by this six-foot-nothing dude on the Philadelphia 76ers who, through pure force of will, was able to carve out a career as one of the giants of the game.
"He was my size, could relate to him, he was smaller, he wasn't 6'10, 6'11," Burke tells Dime over the phone. "Not to take anything from those guys, but we couldn't believe what we were seeing, a six-foot guard winning MVP, winning scoring titles. It was influential, in my opinion he's one of the most influential athletes there ever was."
As Burke tells it, the opportunity to take the floor in the city where Iverson became a legend subconsciously appealed to him as he was trying to figure out his next move this past summer. Burke, following a year serving as a steady hand for the New York Knicks and the Dallas Mavericks, hit unrestricted free agency. Instead of signing a contract that offered him more professional security, the former national college player of the year opted for a non-guaranteed deal with the Philadelphia 76ers.
It's a snug fit for both sides. The Sixers were starved for bench help, shooting, and point guard depth this summer. Burke checks all those boxes, giving the team a capable option to back up, or possibly slide next to, Ben Simmons in the Philly backcourt. He was also something of a bargain for the Sixers, joining the team on a one-year minimum contract through which he can earn up to $2.03 million.
That's a meager payday for Burke, who has put up respectable numbers in the year 94 games he's played for the Knicks and Mavericks since getting called up from the G League in Jan. 2018. In that time, Burke has averaged 11.6 points and 3.5 assists in 20.3 minutes per game, largely as a bench option. But for Burke, suiting up for the Sixers serves as an opportunity to prove something to the rest of the league.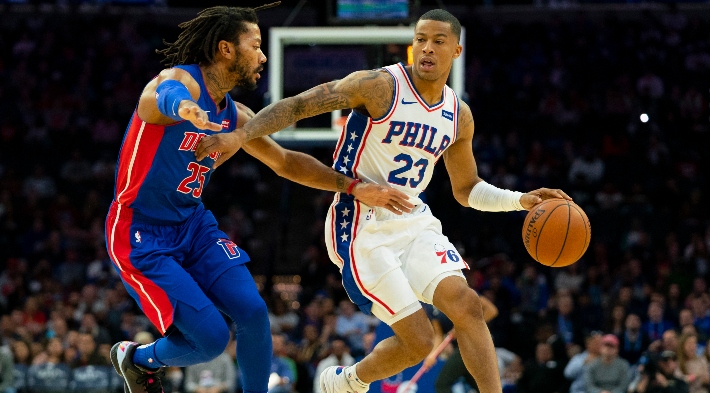 "I felt like if I was a part of something greater," Burke says, "a winning organization, my play would speak for itself and I felt like the skillset that I bring to a team would earn me minutes on the court. I feel like I have a championship-type pedigree even though I have not been on a championship team since I've been in the NBA — in college, high school, even through AAU, just growing up, always being with winning teams, I wanted to get back into a winning-type situation."
Burke saw Philadelphia as a winning-situation long before he joined the team. While the thought of joining them in free agency didn't cross his mind during the regular season, Burke recalls going up against the Sixers and believing in their ability to compete for a championship due to the team's two primary building blocks, Simmons and Joel Embiid. In his eyes, putting talent next to them was a recipe for success.
From afar, Burke was impressed by how both guys handled being under such a bright spotlight during their NBA careers. Two and a half months into being their teammate, and Burke continues to be impressed by Philly's All-Star duo. He sees a pair of leaders, two guys whose habits and work ethic — whether they're lifting or putting in extra work on the court — require everyone else around them to raise their game.
All of this contributes to the hyper-competitive environment that he's experienced in Philadelphia, which Burke relishes.
"Guys are pushing each other," Burke says, "guys are competing at a high level, it's not just one position of guys fighting for a spot, guys are fighting for spots, from the point guard spot all the way to the center spot. It's good, that's always good, iron sharpens iron. When you have a group of guys pushing each other each and every day, you start to develop a love for one another, you start to develop relationships and you start to develop trust for one another, so now, when you get out there on the court against other opponents, those things start to show."
This sort of trust will be crucial for a Sixers squad with ultra-high expectations in 2019-20. Between Kawhi Leonard leaving Toronto for Los Angeles, Kyrie Irving and Al Horford leaving Boston, and Kevin Durant likely missing the duration of the year in Brooklyn, many prognosticators believe there is a two-horse race to win the Eastern Conference. The Milwaukee Bucks currently sit as the favorites, but the Sixers, which added Horford, lost J.J. Redick, and swapped Jimmy Butler for Josh Richardson over the summer, are not far behind.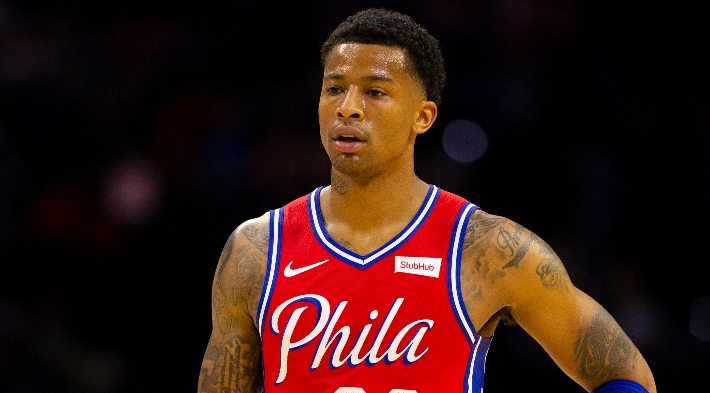 Burke says the team is taking things one day at a time, but believes everyone understands that this year has the potential to be special. The Sixers came four Leonard bounces on a miracle shot in Toronto away from potentially winning a ring last year, and Burke is aware that the bar is set awfully high as they prepare to embark on this campaign.
"I feel like we are expected to be one of the top teams out of the East," Burke says. "I feel like we are expected to be a no-brainer in the playoffs. I feel like we are expected to make a run in the Eastern Conference. I feel like we all know that these are no-brainers for us. So losing in the playoffs will kinda make the season a failing season regardless of how much success we have acquired before that."
To get to that point, Burke says the Sixers are working on building "championship habits." Head coach Brett Brown has preached the virtues of tying their identity to their ability to lock teams down on defense, something Burke has taken to heart. He acknowledges that he's not the most physically imposing defender in the league, so instead, he's leaning on his quickness, speed, and competitiveness to make an impact on that end of the floor.
On the offensive end, the message that he's heard is simple: The Sixers acquired him to do what he does best on the basketball court. He points specifically to his scoring, playmaking, and ability to create as the assets Philly wants him to highlight when he's on the floor, something that has been hammered home by those around him.
"They're continuing to say to me, 'Be yourself, don't come out here and try to be somebody you think we want you to be, we want you to be Trey Burke, the aggressive Trey Burke,'" Burke says. "My teammates tell me that as well, so you're always comfortable when you know you've got support from your staff and teammates."
If he ever needs someone to lean on, it helps that his favorite player is a legend in the city of Philadelphia and someone he's gotten to know over the years. Burke and Iverson's friendship began while the former was a rookie with the Utah Jazz in 2013-14 — he credits building a relationship with the Hall of Fame guard as a boost to his confidence during his first year in the league. As recently as last week, Burke, Richardson, and Iverson all caught up and talked ball at the Ritz in Philly.
Iverson has given him a few things as he's getting ready to embark on this new journey. One is a pair of Reebok Iverson Legacys, which Burke says he's waiting for the right time to bust out during a game — he's worn them a few times, but says Reeboks "feel different from other shoes" and that he still needs to get used to them. The other is a piece of advice on endearing himself to the notoriously passionate Philly fans.
"You play your heart out, they'll love you forever," Burke says of what Iverson told him. "Play like it's your last game every night, they can live with that and they'll love you forever.
"Don't be cool, don't be out there trying to be cool," Burke continues. "You gotta play with that edge that people have seen in Trey Burke, and you gotta be consistent with that, each and every night, you have to play with that edge and that chip on your shoulder, and I took that to heart."