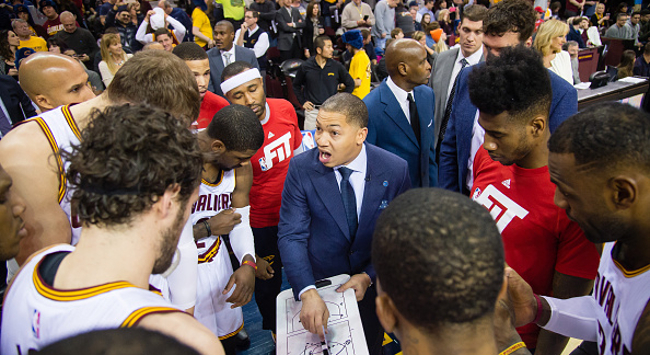 Up to this point in the season, the Cleveland Cavaliers' pace was best measured in geologic time. So far, they rank 28th in the NBA in possessions per 48 minutes, well behind the curve of the current league-wide trend toward uptempo basketball. And that's one of new head coach Tyronn Lue's top priorities moving into the second half of the season. But as both Lue and his players found out Saturday night against the Chicago Bulls, the mind was willing but the flesh was weak. Via Dave McMenamin of ESPN.com:
"I don't think we're in good enough shape," Lue said. "I think early, we wanted to push it, we wanted to open the floor, and I think we came out and did that, and then I think we just dropped off the map. I think we got tired."

Lue noted that his players, including LeBron James, Kyrie Irving and Kevin Love, "wanted to come out early." Not only did having his players ask for early substitutions throw off Lue's planned rotation patterns, the Cavs' collective conditioning led to poor results on the offensive end when they sped up the game.
The Cavs' snail-like pace and lack of ball movement this season has been a dark smudge on an otherwise stellar record and is undoubtedly one of the reasons for the abrupt coaching change Friday. Lue acknowledged that it could likely take a couple of weeks before the Cavs are physically ready to push the ball the way they want, and James later added that they'll likely have to work on their conditioning on the fly during practices and off days. Saturday's outing against the Bulls might just be the first of several chaotic performances from Cleveland as they try to dramatically alter their identity moving into the second half of the season.
(Via ESPN.com)