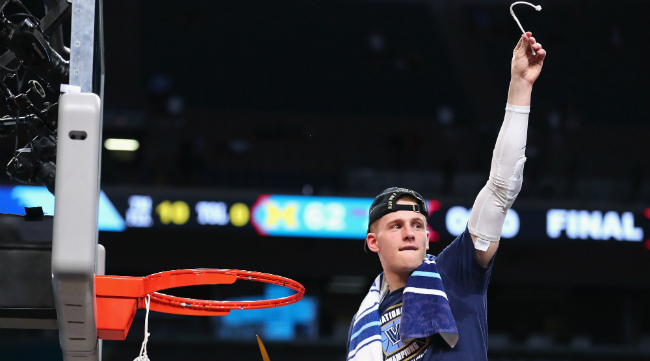 Donte DiVincenzo emerged onto the national scene with a breakout performance in the NCAA Tournament and, with that as the backdrop, declared for the 2018 NBA Draft. However, he has navigated the process without an agent to this point, leaving his options open for a potential return to Villanova and another run at college basketball glory.
On Tuesday, however, word broke that DiVincenzo will remain in the draft with an eye toward a potential landing spot in the first round.
Wildcats coach Jay Wright later confirmed that his explosive guard will, indeed, head to the NBA.

DiVincenzo operated in a supporting role at the college level, playing alongside draft prospects Mikal Bridges, Jalen Brunson and others. However, the 6'5 guard knocked down more than 40 percent of his three-point attempts during the 2017-2018 season. Combined with high-end athleticism (he busted out a 42-inch vertical leap at the draft combine), that helps project him as a top-30 pick in this class. In addition, some believe he can function as a point guard in certain looks, which can only serve as a potential aid to his overall value.
At this stage, it is somewhat tough to gauge just how much DiVincenzo's stock has skyrocketed. He likely has some level of confidence when it comes to being selected in the first round given the simple choice to remain in the draft, but there is, at least to some degree, a large gap between the mid-teens and the late-20's. Still, it is fair to argue that DiVincenzo's stock may never be higher than after his tremendous NCAA Tournament showing. As a result, he's made the decision to pursue a professional career.