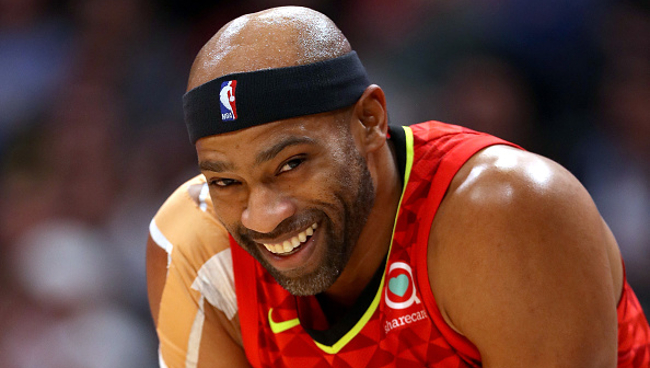 Vince Carter is currently in his 21st season in the NBA, averaging 7.1 points per game and shooting a robust 40 percent from deep in 16.1 minutes off the bench for the Atlanta Hawks. At age 42, the question of retirement has been hounded Carter all season long, but the man once known as Vinsanity has been reluctant to give a definitive answer as to his postseason plans.
During a recent appearance on ESPN's Pardon The Interruption, Carter hinted that he still has some interest in lacing 'em up for his 22nd year, which would set the record for the most seasons for a player in NBA history.
"I think I could stretch it out one more (season)," Carter said. "Me, personally, I think I could give it another year. Why not? We'll see what happens."
Carter said that at the end of every season, he takes some time to assess "top to bottom" how he's feeling. If he feels good enough, then it's matter of the type of opportunities that are out there for him, and if teams are still showing interest. Carter is currently on a one-year deal with the Hawks that pays him just about $2.4 million. He'll be an unrestricted free agent this summer.
If the Hawks want him back, it seems like a fairly natural fit for Carter to return to Atlanta on another one-year deal. Carter has value as a veteran on a team with youngsters like Trae Young and John Collins, and if he's going to hit threes at anywhere near a 40 percent clip, that's an added bonus. Or maybe he flies north, back to where everything started in Toronto. If neither of those things come to fruition, or Carter's body simply tells him no, 21 years in the NBA is a hell of an accomplishment.