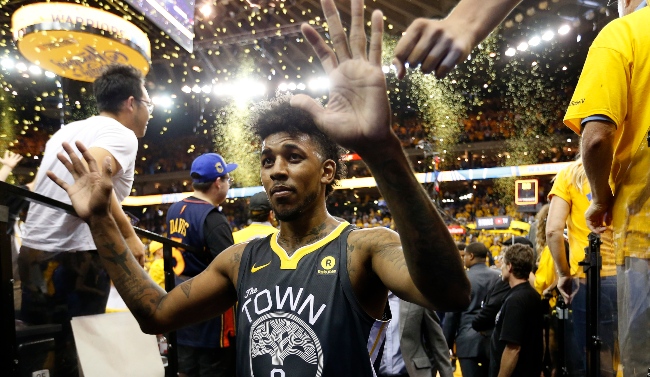 There is something about Nick Young that's just funny. The guy affectionately known as Swaggy P had a delightful game as a volume scorer without a conscience. He always had a smile on his face and, for some reason, made people laugh whenever Young would take the floor. Apparently, even though he's not on an NBA team right now, that's still the case.
The Golden State Warriors hosted Young on Friday night to give him the championship ring he won as a member of the team last year. As is usually the case, the ceremony where he got his ring occurred before the game tipped — Draymond Green presented Young with the new jewelry while the rest of the Dubs gleefully watched.
There was just one issue, according to Nick Friedell of ESPN: The ceremony took too long and the Warriors got hit with a delay of game penalty.

"Very fitting to get a delay of game giving a ring to Nick," Green said, per Friedell. "He actually caused it doing all his little waving and stuff. But it was great. I'm really close to Nick. To play with him that year was amazing. I wish he was back.
"But that was a good moment, and obviously Nick's been through a lot in his career, and for him to get that ring meant a lot to me for him," Green continued. "So I was thankful to be the guy presenting to him. I'm happy he was able to make it here to get the ring because that's something special that nobody can take away from him."
That wasn't all Young had in store. The free agent wing filled the media in on what he's had going on lately — "Just being me, man, being Swaggy," he said — before making the case for why he should be in Space Jam 2.
Nick Young is, as always, a delight.