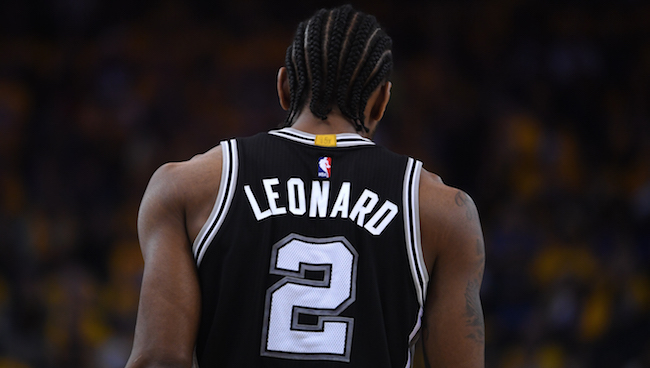 The Spurs ran out to a 20-point halftime lead (leading by as many as 25) and lead by as many as 23 in the second half, it seemed like it was there destiny to stun the Warriors in Oakland in Game 1 of the Western Conference Finals. Everything changed in the third quarter when San Antonio star Kawhi Leonard, who had 26 points, eight boards, and three assists in 24 minutes, was forced to exit the game as he re-injured his left ankle twice.
The final time, the one that forced him out of the game for good, came on a questionable Zaza Pachulia step-under foul with eight minutes to play in the third quarter. After Leonard's two made free throws, he checked out and went to the locker room, from which he did not return. The Warriors immediately ripped off an 18-0 run to get within striking distance going into the fourth quarter.
San Antonio, to their credit, held the Warriors off for as long as they could, but Steph Curry and Kevin Durant's hot shooting, coupled with poor offense from the Spurs, proved to be too much for San Antonio to handle as they escaped with a 113-111 win to take a 1-0 series lead. Curry and Durant combined for 74 points in the game, with 46 of those points coming in the second half. Curry went nova from three-point range, as he is wont to do, during the comeback, taking advantage early in the third quarter of Pau Gasol's sagging defense on Pachulia that allowed Steph to get great looks off of screens. From there, the rim got bigger and Curry lit it up.

While the Warriors heated up after an uncharacteristically poor first half, the Spurs' offense stagnated in Leonard's absence, as they turned to LaMarcus Aldridge to carry much of the load and he was simply unable. Aldridge got off to a scorching start to the game, with 11 points in the first quarter that he capped off with a poster dunk over Draymond Green. After a 5-of-7 shooting first quarter, Aldridge cooled off considerably, going 6-of-17 the rest of the way including missing eight shots in the final quarter as the Spurs tried desperately to get him going as their only real offensive weapon with Leonard out of the game.
This is the biggest question for the Spurs in Kawhi's absence. Leonard's defense is what makes him stand apart from the other stars of the game, but his offense is most important to this San Antonio team's success. Leonard is a tremendous defender, but they have the ability to cobble together perimeter defensive combinations with Danny Green and Jonathan Simmons that are more than capable. The problem is on the offensive end. Simmons and Green are not creators on the offensive end, which leaves the 39-year-old Manu Ginobili and Patty Mills as the best perimeter offensive weapons the Spurs have with the ball in their hands. Neither are as reliable or skilled as Leonard — there was a time when you could lean on Manu regularly, but not now — and being forced to rely on Ginobili in the game down the stretch in a close contest creates a significant defensive liability.
In Game 6 of the Rockets series, the Spurs were able to lean on Aldridge for 34 points, carrying the offense in the blowout win, but it was clear in Game 1 that when it got to crunch time and he was faced with the pressure of going at Draymond Green he was flustered. Aldridge looked all out of sorts in the fourth quarter, as the Spurs insisted on isolating him in post-ups and he continually went to his fadeaway against strong contests by Green even though they were not falling.

We won't know what Leonard's status for the future of this series until later, but if he can't go or isn't at 100 percent, Aldridge has to be the one to step up on the offensive end.
That doesn't mean they should feed him in the post over and over as they did in Game 1 because that's just running your head into a brick wall when Draymond Green is on the floor, but he has to be the primary threat. San Antonio will need Simmons and others to elevate their games as they did against the Rockets, and you can bet adjustments on the offensive end are coming after watching the fourth quarter film.
It feels like an exercise in futility to try and figure out ways to beat this Warriors team without Kawhi Leonard, but that's the task for Gregg Popovich and his staff. They'll do their best and if there are any staff and team that you feel could possibly pull it off it's them, but this series will come down to the health of Kawhi Leonard's left ankle. Leonard was a +21 in 24 minutes and the Spurs were a -23 with him off the floor. You could feel a Warriors run coming in the third quarter, but as long as Leonard was in the game, San Antonio seemed able to withstand the barrage of Curry threes. Once he was out, they just didn't have enough to hold the Warriors at a far enough distance.
The Spurs system might be able to take down the Rockets, but they will need their MVP candidate against the Warriors and even then it might not be enough. Golden State doesn't make many mistakes or play that many bad games and the Spurs squandered a great opportunity in Game 1. Now they have to manage to manufacture four more opportunities like this one in the next six games and capitalize on them all.