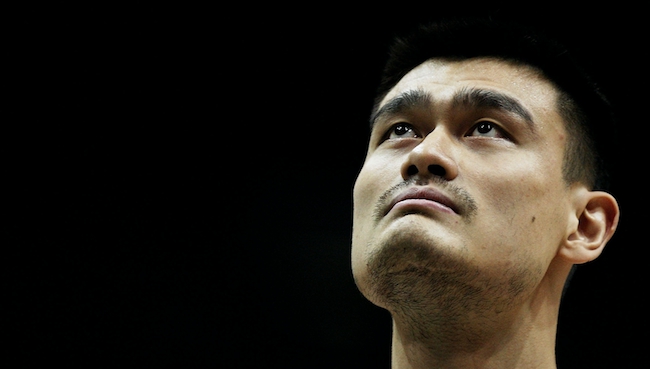 Yao Ming's career will always be a tale of what could have been. Come September, though, the former Houston Rockets superstar will finally be celebrated for his estimable on-court accomplishments ahead of anything else.
According to Adrian Wojnarowski of The Vertical, Yao has been elected for enshrinement to the Naismith Memorial Basketball Hall of Fame's Class of 2016. The official announcement will come this weekend in Houston at the NCAA Final Four.
Yao's NBA debut in 2002 was met with more worldwide fanfare than any player's in league history up to that point. At 7'5 and blessed with an innate shooting touch, the Chinese import was an incredibly rare prospect – irrespective of his native roots. Yet perhaps most importantly, Yao's presence and subsequent rise to stardom expanded the NBA's reach into China and East Asia, a development reflected by the league offering multilingual All-Star ballots for the first time in 2003 to accommodate his massive global following.
An eight-time All-Star starter and five-time All-NBA honoree, Yao averaged 19.0 points, 9.2 rebounds, and 1.9 blocks per game throughout an eight-year career cut short by nagging injuries to his left foot. He played 57 games or less in three-consecutive seasons from 2005-06 to 2007-08, sat out the entirety of 2009-10, and finally called it quits for good after the discovery of a stress fracture to his left ankle limited him to the first five games of 2010-11.
At his peak, Yao was among the very best players in basketball, an offensive monster who scored with ease in the post, drew fouls at will, and even consistently stretched the floor to 20 feet. While the specter of a healthy he and Tracy McGrady leading the mid-to-late 2000s Rockets is fascinating, it's equally enchanting to wonder what Yao might have been in the modern era. Could you imagine a 7'5 center launching triples with accurate abandon?
Those are the kinds of questions a singular player like this inspires. In early September, however, it will be time to focus on what Yao meant to the game and still does as opposed to what never came to pass. And needlessly to say, his is the resumé and legacy of a surefire Hall of Famer.