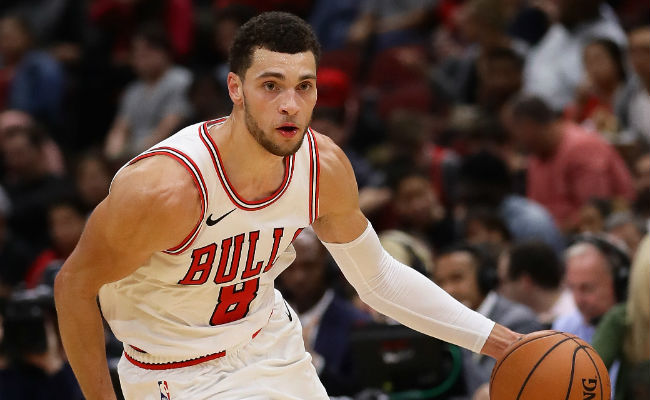 The Chicago Bulls rewarded Zach LaVine with a $78 million contract in a roundabout way this summer. First, the Sacramento Kings offered him that deal, and the Bulls soon matched the offer sheet.
The result was a lot of talk from various angles of the deal. Some thought the Kings were crazy for offering that much for LaVine in the first place. Others were even more befuddled when the Bulls matched the deal, especially considering LaVine was still coming off of a serious ACL injury.
LaVine was interviewed by CBS Sports recently and was asked what he thought about the chatter surrounding his new deal, and the answer was pretty simple: he doesn't care what anyone thinks about the money he's earned.
Via James Herbert of CBS Sports:
It's everybody's opinion, man. I really could give a damn. I bet everybody wishes they were in my position. I know I've worked for everything I've gotten in my life, man, so I was excited. I'm happy to take care of my family. I work extremely hard at this game. I think that's a little bit of what fuels you, too. There's always going to be people that are critics and they can share their own opinion and that's fine. That's their opinion. But I'm going to have my own opinion, and there's a saying I always say: It's either going to be I told you so or they told you so.
It's a pretty fair dismissal, and a good point: LaVine's contract is one plenty of people in the league would take. Being above the noise is important for any player in the league, but it's got to be a bit annoying to know people think he's not worth the investment from the Bulls.
Whether it turns out to be motivation to prove critics are wrong, or simply a point that's difficult to overcome, will only become clear with time. Right now, LaVine isn't letting anyone's opinions bother him.