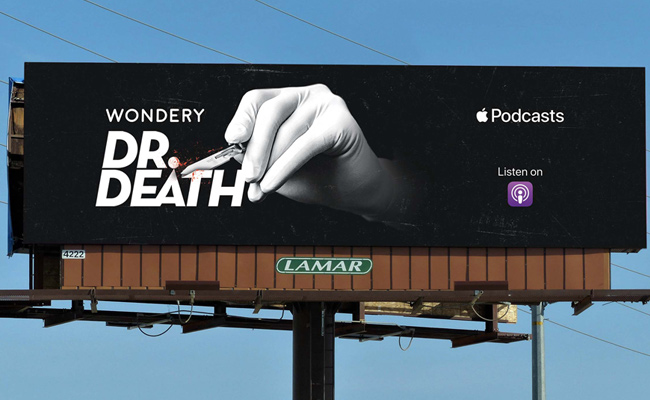 (A mock-up of the billboard Wondery paid to put in front of the hospital where its subject used to work)
While the state of modern journalism can often seem pretty dire, investigative, serialized podcast series stand out as one of today's few bright spots, one of the last places you can still find people willing to pay for good reporting. Tackling some of the same stories that in years past might have gotten one sensational episode on Dateline NBC, the more expansive, more bingeable podcast format seems to allow them to become both more memorable and more consequential.
The best of these series retain the lurid appeal of the news magazine while offering the opportunity to go deeper; to tell stories that resonate as much as they titillate. The podcast is also becoming the go-to medium for in-depth profiles of fascinating sociopaths, allowing us to marvel at the sheer breadth of human behavior as we go about our mundane daily drive to work or do chores around the house.
Podcasts' status as a new medium, in which the rules have yet to be codified crystallized for me a few weeks back, when I sat in a dark screening room at United Talent Agency with a group composed largely of fratty, agent-y men in suits listening to a non-fiction account of an evil surgeon. The screen, almost vestigial now, displayed a still graphic. Many in the crowd wore the custom eye masks we'd been given, to add to the audio immersion effect.
The show was Dr. Death, from Wondery, the same podcast production company that brought us Dirty John, last year's thoroughly addictive series about a stalker/con artist who inserted himself into one Orange County family and nearly tore them apart. Dirty John would seem hard to top — the story of a psychotic con-man who spent his days playing Counter Strike, posing as a doctor and telling fake war stories. He was a character simultaneously familiar but totally unique, a brilliant schemer who was also, even in his late 50s, kind of an idiot slacker — like Fatal Attraction meets a Judd Apatow movie. It was also perhaps the definitive portrait of Orange County, California. Dirty John ended up being wildly successful and is currently being adapted for a television show on Bravo.
Dr. Death, a story Wondery's producers heard about through Dirty John's tips email, feels perhaps less like a show on Oxygen, though it's arguably more relevant. It profiles a spine surgeon named Christopher Duntsch, who operated on 38 people, 33 of whom were left either dead or with some form of permanent paralysis. You listen in horror to what feel like slow-motion car wrecks, captured in Wondery's signature immersive soundscape, as Duntsch drills screws meant to anchor bone into soft tissue and inexplicably snips nerve bundles that control important motor functions, causing irreparable harm.
So many podcast series, from Serial to S-Town to the incomparable In The Dark, set out to solve a mystery. In Dr. Death there's no question as to who the killer is, but there are still a few mysteries to unravel. Chief among them is the mystery of whether Duntsch was homicidal or simply criminally inept. The next question is how he was able to continue performing surgeries even as he butchered patient after patient.
It's those two question combined — the lurid, unstoppable search for an ultimate motive, and the more concrete question of how the medical system allowed this to happen and how we can fix it — that make listening to Dr. Death feel like you're eating cake and taking your medicine at the same time.