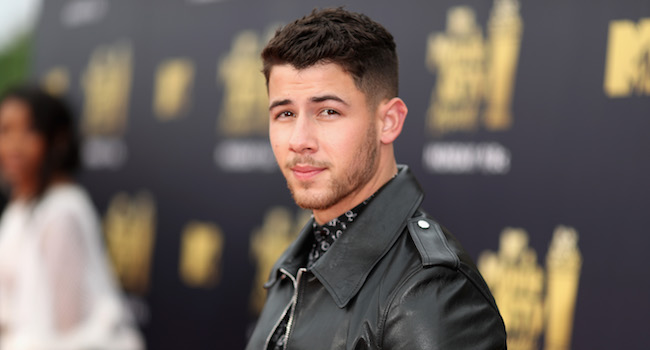 Does Nick Jonas contain multitudes? It's possible. According to Variety, the former Jonas Brother — who, of course, will always be a Jonas brother — spent his 25th birthday weekend at Los Angeles' swanky Chateau Marmont, where he held a table read of his debut play, Dessert First.
The youngest Jonas has been quietly dipping his toes in non-music-related projects for years. He made his onscreen acting debut in the 2015 indie thriller Careful What You Wish For, and earned acclaim the subsequent year for the low-budget frat hazing drama Goat. Last December he made his blockbuster movie debut, landing a small but key role in Jumanji: Welcome to the Jungle.
It was on the set of that hit reboot that Jonas began writing Dessert First. Details — about plot or its genre, or how it was received — are so far unknown, but the cast included Darren Criss, Nina Dobrev, and Molly Shannon. Jonas invited a small but exclusive audience, among them about three dozen studio executives and producers, as well as his fiancée, the actress Priyanka Chopra.
Dessert First is one of the first projects launched as part of his new production company, which he launched in order to give him vehicles as an actor and as a writer.
Jonas' attempts to make it as a screen star are already well under way. Next year he'll appear in Doug Liman's sci-fi picture Chaos Walking, alongside Tom Holland and Daisy Ridley, as well as Roland Emmerich's WWII movie Midway. As a teen, he appeared in the concert movies Hannah Montana and Miley Cyrus: Best of Both Worlds Concert and Jonas Brothers: The 3D Concert Experience.
(Via Variety)