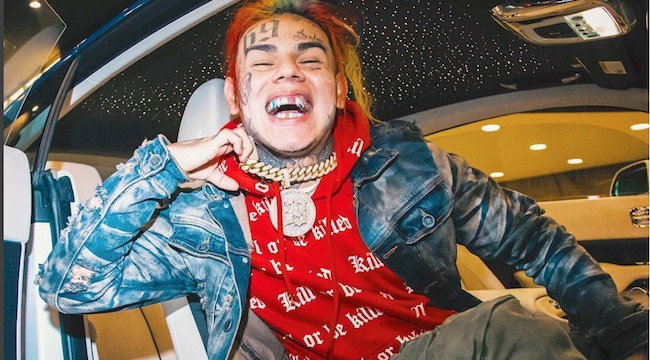 New York-based rapper 6ix9ine, who has been dogged by legal disputes stemming from his guilty plea in a child sex case, could find himself behind bars for not passing his GED. According to a report from Jezebel (who broke down the disturbing details surrounding his case a few weeks ago), the rapper made an agreement in 2015 (which can be viewed here) to pass the test before this year or else he'd be put in prison. Yesterday, during his crucial sentencing hearing, it was revealed that he hadn't passed the test in the two years allotted to him.
Telling the judge that the 6ix9ine had been "struggling," with the tests, his attorney managed to get the rainbow-haired rapper a due date of April 10, 2018 to finish his GED — or else he'd go to jail for up to three years. 6ix9ine's songs and music videos are rife with violence, gang banging, and ridiculousness which have in some ways masked the seriousness of the case that has been surrounding him for more two years.
In interviews with viral internet journalist DJ Akademiks, he says that he had no sexual contact with the 13-year-old victim (even though there is visual evidence to the contrary) — yet in his hearings and the deposition released to the public he is portrayed as timid and meek. His current situation mirrors a frustratingly prevalent trend of rappers (such as XXXTentacioand Kodak Black) who have been outwardly problematic — but are surviving based on their rabid, and young, fanbases. Even with the three songs he has on the Billboard charts, 6ix9ine's run may be cut short due to the most routine test you could take. His response? Make a joke out of it by naming his debut mixtape GED.