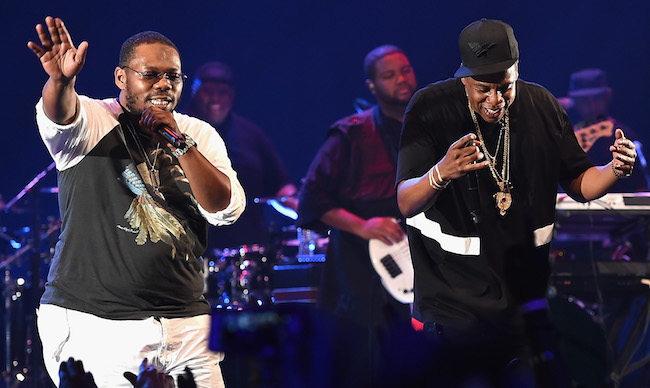 Beanie Sigel is hoping to make his fans happy in the next year. He has projects in the works, and even the possibility of reuniting with his old buddy Jay Z. In an interview with XXL, Sigel was asked about his relationship with Hov nowadays.
"Time heals all wounds," Sigel says. "That's my brother, no doubt about it. I love Jay." He then goes on to say that he's reached out to Emory Jones about getting Jay Z on a song, because he feels nobody else can "keep up" with him.
Elsewhere in the interview, Sigel updates fans on his upcoming Still Public Enemy album with Jahlil Beats. It started out as a mixtape, but he had a revelation that it's too good to just give away for free. However, the price is a lot less traditional than most releases and will likely turn fans away.
"This worthy of paying and I swear when I drop, I be telling my people, "I'm selling my joint for $29.99." I'm not going on there for $9.99. True hip-hop fans are going to spend that $30. That's how I'm doing it. I'm marking my price up. Some people are going to get it, some people are not."
He's 100% right.
In the grand scheme of things, Sigel is allowed to charge whatever he wants for his art, but will fans support? Most people can't even be sold on a $10 dollar album, so $30 is way out of the box for them. No matter how great the hunger for his material may be, Beans is going to need a stronger strategy.
In the current landscape, the Broad Street Bully is going to have to expand past the idea of simply selling people an album. Think of Nipsey Hussle's innovative "Proud to Pay" campaign that offered multiple incentives for fans. The concept went over so well even had Sigel's former Roc-A-Fella boss and hopeful collaborator Jay Z 100 copies for $10K. Or, maybe Sigel can look to De La Soul, who turned to Kickstarter and saw a great deal of success, and part of that lies in giving the fans more.
What will Sigel give for $30? His raised price can work if his plan includes more for the fans. Let's say he shot a movie or created a comic book based on the album's concept. If nothing besides an album comes with the purchase, he's going to be disappointed at the lack of sales.
The one thing we can all agree on is that Still Public Enemy will deliver. Sigel doesn't make bad music. Aside from possibly Jay Z, expect to hear Jadakiss and Scarface on the project. He also expresses interest in doing something with Fabolous, which seems easy on paper. In case you missed his two newest songs this year, check out "Still Public Enemy #1" and "Dinero," featuring the aforementioned Jada.