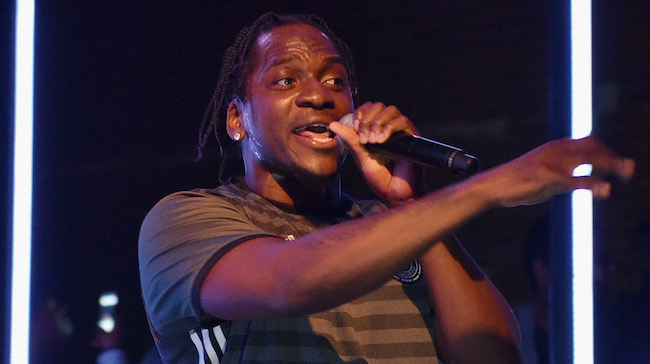 There's a certain risk you take when you employ Pusha T to rap on your song. Of course it will increase the quality of the track, just off sheer presence alone Push makes for a unique and satisfying addition to just about any song. But the risk is he might just murder you, obliterate your beat, and effortlessly make your song his own. The latest victim of this phenomenon is Belly, whom Jay-Z touted as one of the most talented musicians in the world in his appearance on the Rap Radar podcast back in August, as Push lit fire to his track "Alcantara."
It's not so much what Pusha says either, because most of that is normal Pusha T rhetoric — he raps good, he's fly, he dabbles in trafficking — it's how he says it. Push breezes over the beat, only pausing ever so briefly to drop in perfectly timed ad-libs to go with the vivid imagery he paints throughout his 16 bars. "Papi sold me a brick and taught me the cha-cha," he jokes at one point and it's clear Push is just toying with the entire track by then. It's like a sprinter jogging through a four minute mile, then winking at the crowd, subtly acknowledging that he could have run much faster if he wanted to.
With Push still working on his Kanye West-produced album King Push it's as good as we'll get from him until he decides to unleash what he's cooked up with 'Ye.
[protected-iframe id="4fa95748a0b29058c048fa33a39cef4d-60970621-76566046″ info="http://tools.applemusic.com/embed/v1/song/1292369582?country=ru" width="100%" height="110px" frameborder="0″]