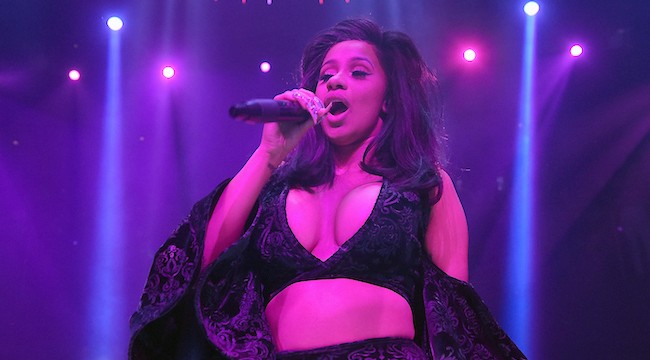 Cardi B has become symbolic of sisterhood in hip-hop in 2017. After helping to end the myth that there can only be one woman on top in rap by squashing rumors of beef with Nicki Minaj, she's become a focal point for many who want to see women continue to gain success in the genre. Case in point, over the weekend, Cardi again tackled misogyny in hip-hop and online and received a show of solidarity from an expected source: Fellow female rapper Iggy Azalea.
"I don't understand why man hate on woman sooo much ?" Cardi wondered via Twitter, "Do you guys want to suck and fuck the dicks us woman do ? Cause it seems like it when yaaa show sooo much hate on a b*tch." While the tweet in question racked up thousands of likes and hundreds of replies, one, in particular, stood out. Iggy replied, "Actually girl, YES. a lot of them do," with an upside down smile emoji. Iggy's had to deal with a significant amount of negative backlash herself. While at least some of it has more to do with her own missteps, there's no doubt that much of it was fueled by her position as a woman in a male-centered musical genre.
Cardi's brash, outspoken personality and ridiculously catchy pen have garnered her a Grammy nomination for Song Of The Year for "Bodak Yellow," her history-making No. 1 single. Meanwhile, Iggy's fortunes have fallen in recent months, with her sophomore album's release delayed by stalled promotion and numerous dud singles.