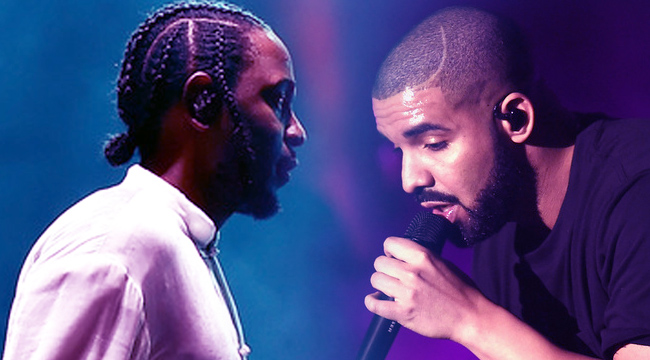 On Saturday, March 18, the Canadian rap sensation dropped More Life.
Less than a month later, on April 14, the good kid from Compton dropped DAMN.
Shonda Rhimes could have written the last month of rap music, and there'd still be less be less melodrama. Forget about a knife; you could cut the tension in hip-hop with an old microphone cord.
While there may be individual disagreements, for the most part it feels like the "Real Hip-Hop™" establishment has decided the two biggest names in rap are Kendrick Lamar Duckworth, the face, and Aubrey Drake Graham, the heel — but it's never been that simple
Consider the two points above. Disparate, coincidental, discrete occurrences to any objective, outside observer. But somehow, within the unwritten and often fluctuating rules of hip-hop, each resonates with its opposite, increasing in importance and impact purely because of the existence of both. They circle around each other with the sort of gravity reserved for opponents locked in mortal combat, trapped in a ring of fire, with no way out but to go through the other guy, and no control at all over how they got here.
It's funny; on some level, the baseline argument between the two — on a purely technical, skill-based level — is quantity vs. quality. Both have pros and cons, but both meet the terms of the social contract between rapper and fan, to play their assigned roles as hero and villain, even when neither quite fits. Both of them become avatars representing the best and worst of hip-hop; pop rap vs. authentic street hip-hop. Kendrick is the savior of "real rap," while Drake upholds everything that is wrong with hip-hop nowadays. Drake drops an album, social media lights up: "When will Kendrick respond?" Kendrick's follow-up drops; it can't be a random event, a coincidence of market factors like holidays and summer doldrums, it has to be planned, it has to be deliberate, it has to be petty, it just has has to be about Drake!
In terms of quantity, Kendrick gives us plenty; he raps on everything. We only just got to hear him flex a little vocal muscle and sing; otherwise we've heard the diminutive dynamo flex every type of flow pattern, smashing words together into breathlessly machine-gunned raps that mimic the sounds of the shootouts he grew up avoiding in his hometown of Compton. His introduction to a great many of his most hardcore fans was the flame-throwing, hyper-propulsive intensity of "Look Out For Detox," where scarcely a breath was heard as he relentlessly speed-bagged a blaring Childish Gambino production to hype the heavily-anticipated, highly-mythologized Dr. Dre album — the one nobody ever wound up hearing, because K. Dot stole all its limelight in just three minutes and eleven seconds.
Yet, it feels like his most quotable moments don't come until he slows down, or stops rapping altogether. Think about it, your favorite Kendrick quote is probably one of his adlibs: "I don't smoke crack…," "… Ya bish," "You goat-mouthed, mammy…," every "I'll beat your ass" on "Fear." Some fans feel he probably rhymes too much. Listen closely; there are plenty of times when he throws in some goofy extra word, all out of context, to complete the internal rhyme when he doesn't need to. But he keeps getting shots up, so by the time the last one hits, misses, bricks, airballs, banks off the backboard, you're already anticipating the next.
Meanwhile, Drake spaces out his rap releases. The most bars we really get from him is the occasional track titled "(time) in (place)." ("5 AM In Toronto," etc.) By comparison, his rhyme schemes are relatively simple. The crux of his popularity is, he'll say 16 bars and you'll get 8 quotable lines. Everything he says, someone somewhere relates to — he aims to make every bar count, or as many as possible. He'll make a track about pining for a long-lost ex-love, and in darkened clubs all throughout the city, lonely hearts will toss back shots of their favorite liquor and sing along with all their souls. When he decides to get aggressive, mean-mugged knuckleheads screw their faces and tighten their backpack straps, and loudly proclaim, "He needs to get back to this!" The big breakthrough for Drake wasn't a flurry of flechette-like verbal darts sprayed at any and every target unlucky enough to get caught walking through his field of fire. It was "Brand New" — a tender, introspective, not-quite love song, wherein Drake's narrator bared his insecurities to a potential flame, asking her "is anything I'm doing brand new?"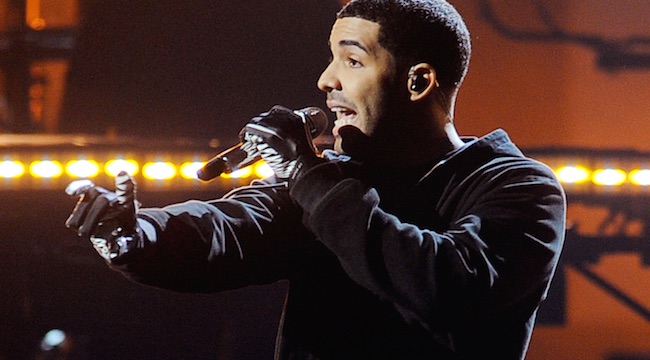 It wasn't even "his" song; it was a reference track for another artist, a "real" singer — not for public consumption. The song leaked to the internet in the nascent days of so-called "blog rap," finding its way to Drake's Myspace page only after it was clear it was too late to stop its spread, as it was just too popular. Drake's weakness seems to be that things just happen to him; so many of his pop culture moments come from his doing something awkward, unusual, or embarrassing, and managing to roll with the punches that never seem to stop coming. When you're known for being a super-efficient shooter, your misses are all the more glaring.
Such is the contrast between the two artists, and how they both fell into their easy roles; it seems almost as though the Canadian was handed his success on platter, tripping and falling over backward into fame and fortune, while his ostensible rival had to scrap and survive and scrape together an existence from government assistance, fighting off South Los Angeles gangs and their lurid appeal to take his destiny from the jaws of the titular m.a.a.d. city. Everyone loves the underdog; that's Cornrow Kenny, pulling himself up the hip-hop ladder by his bootstraps and force of will. Everybody loves to hate the rich kid, the snob whose position in life was unearned and easy, and therefore illegitimate — that's Drake. Yet, while hip-hop is eager to paint both with broad strokes and surface-level critiques, rap — as with life — is not so cut and dry.
Drake was the product of the stereotypical, single-parent household, raised by his single, sickly mom. While his papa was out being a rolling stone, Aubrey was working as breadwinner for his household. Those Degrassi checks that some ridiculed in response to his "Starting From the Bottom" claim didn't stretch as far as detractors might think; with rent, studio time, and medical bills to pay (not to mention, supporting his "flex" purchase of a Rolls Royce Phantom to fake it til he made it), those ensemble, cable, teen-drama thousands slipped through Wheelchair Jimmy's bank account like water.
At one point, Drake was tabbed to be the savior of hip-hop, before Thank Me Later dropped and disappointed all of those fans who were expecting him to change the game, another black mark. He did change the game, but not in the way they wanted or expected, and so they rejected him as a hero and turned him into the villain. All of this makes for convenient ammunition in every potential rap conflict he could ever have; it hangs over his head like the Sword of Damocles, threatening to slice clean through the tightrope he walks between heartthrob and simp, outcast and iconoclast, having it all and the fear of losing it all. There's a whole label riding on his success and whether or not you believe his artists benefit from being signed to him, without Drake, nobody on OVO eats. That's a lot of pressure, and he's carried the weight for the entirety of his career.
Meanwhile, despite a rough-and-tumble upbringing courtesy of affiliated cousins and classmates, Kung-Fu Kenny had the benefit of having his father in his life, and a lifelong benefactor in Anthony "Top Dawg" Tiffith. While Top Dawg took Kendrick under his wing, signing the lyrical wunderkind to his TDE imprint, giving him a stable label home in which to hone his craft, Drake was paying out of pocket to push poorly-conceived Trey Songz collaborations to BET. Both rappers were recipients of big name co-signs that pushed both into the stratosphere of public consciousness: Drake, from Lil' Wayne, Kendrick, from the aforementioned legendary rap producer with whom he just happened to share a hometown (no, not DJ Quik).
Even more ironically, quiet as it's kept, many of Kendrick's staunchest supporters first exposure to his name, to his style, to his entire anti-establishment approach to the music biz, came as a feature on Drake's second album, Take Care, on the jittery, uncomfortable "Buried Alive Interlude," detailing the first meeting between the two, and Kendrick's inherent distrust of the industry he was trying so hard to break into. Kendrick is the most popular member of his Black Hippy ensemble, but without him, Top Dawg's got useful pinch-hitters in Schoolboy Q, Ab-Soul, Isaiah Rashad, and Jay Rock. When Dot threatened to "murder" (as in outperform, outlast, outsell any/all of his peers not shoot/stab any of them) every rapper he respected on Big Sean's "Control," yes, he ignited a flame of competition in rap, but he also alienated himself from possible support. There's a lot more to be gained from collaboration than competition, but it almost felt like Kendrick was straining against the constraints of being rap's hero; maybe K. Dot really wants to be the villain, but hip-hop won't let him, because we so badly want it to be Drake instead.
Rap is WWE. There are heroes (faces), there are villains (heels) and there is drama; plotted, scripted, and acted out for the audience's enjoyment. However, there's a twist. There is no writers' room pitching plot twists, and most importantly there are no fights. There is no real way to decide winners and losers, good guys and bad guys, and without those key elements, the narrative falls apart. So the fans use the only tools they have available to create it: their imaginations and the court of public opinion. Even if they may not want it, acknowledge it, or even actively feed into it, Kendrick and Drake have been inextricably linked in the minds of rap fans, who will continue to connect everything each does, in some way, to the other, to fit the narrative we've created online. In doing so, we can bring them closer, even if only in our collective imagination, to the inevitable confrontation that will finally settle the debate of who is the greatest in rap once and for all. Hip-hop may not have a literal crown, but someone's gotta be the king.
Aaron Williams is an average guy from Compton. He's a writer and editor for The Drew League and co-host of the Compton Beach podcast. Follow him here.