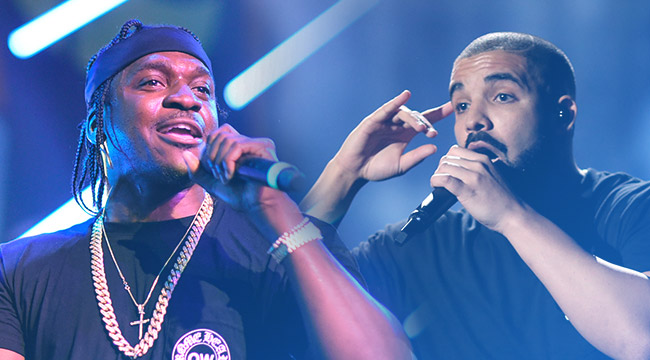 When Drake first said he was releasing four songs on Sunday, it was almost certain that one of them would be a "11pm in Tokoyo" type track where he went head-on at his foes. Thankfully, he did not disappoint by including "Two Birds, One Stone" in the mix of new tunes.
In the wake, a lot of discussion has centered around Drake's not so subliminal jab at Kid Cudi. The jury is still out on whether the 6 God is playing fair since the Man on the Moon is currently away on rehab and can't record a response if he wanted to, unless the facility houses a lot of musicians and includes a studio space as one of its accommodations. Let's move past that one for now and focus on who really took the brunt of the blows on the track: Pusha T.
By now, everyone should be up to date on the long-running, mostly one-sided back and forth between the former Clipse member and Lil Wayne, Drake, Young Money and Cash Money. As I type those words out, I now realize it reads like "I hate all y'all." Whether that's the case or not, Pusha has always taken jabs at Wayne and later Drake but they've been slow to respond. Until now, after Drake gave Push a verbal dressing-down that sounds like he's been holding back forever.
"Still they try and tell you I'm not the realest
Like I'm some privileged kid that never sat through a prison visit
Like it was handed to me, tied to a ribbon, I never worked to get it
But really it's you with all the drug dealer stories that's gotta stop though
You made a couple chops and now you think you Chapo
If you ask me though you ain't lining in the trunk with kilos
You bagging weed watching Pachino with all your niggas
Like "this is what we need to be on," but never went live
You middle man in this shit, boy you was never them guys
I can tell cause I look most of you dead in the eyes
And you'll be trying to tell that story for the rest of your lives"
If we want to go further, we can take a look at subsequent lines that could apply to Pusha: "They all look at me like what have you done for me lately / I like your older shit but wasn't in love with the newer stuff." I say could those lines apply because, by this point in the song, Cudi or even Joe Budden may be the intended target but I like to think that Drake's thinking back on his love for Clipse. Heads will recall he once was a fan of the Thorton brothers and once spent $200 on "a Pusha T microphone" on eBay back when he was 17.
[protected-iframe id="f4856699abbe3505fcbefbad17eb21a9-60970621-76566046″ info="http://www.worldstarhiphop.com/embed/47013″ width="650″ height="400″ frameborder="0″ allowfullscreen=""]
Push has been baiting YMCMB for what seems like forever. The main reason seems to be a generic "because they're fake," which really isn't a whole lot of reasoning but we've seen beefs and battles take place for less. He's been wanting to spar against someone from the camp for ages.
Now, his wish has been granted.
For the first time, Drake's stepped up for his team and held up a mirror to Pusha as if to say "Nah, bruh. You're the fake." All those mounds of coke he's claimed to deal and money machines he's worn down are all illusions according to Drake. It's all fiction conjured up from watching drug tales on the screen and pulling from the real life stories of people who surrounded Push, not events he lived firsthand. Of course, what Drake's saying could be hollow when you think back on parts of the Clipse story that have been documented as facts. Strictly from a rap perspective, what we have here is after being the one doing the punching for so long, now someone finally turned things around and made Push the punching bag.
And this time, he can't wiggle his way out or feign as if everything is lovely between him and YMCMB et al.
He's going to have to figure out how to attack Drake. Meek tried that with the ghostwriting angle and Drake went on to push a few million copies of his next two works and toured without a care in the world. Joe Budden and, to a lesser degree, Common tried giving him bars but neither one got the responses they hoped for. In fact, it won't come down to bars, as much as it sucks to say that since this is…rap. Pusha's had years and years to build up a dossier on Drizzy. He should have mounds of material garnered from pillow talk, finding ways to worm info away from people who've been involved in Drake's writing camps, etc. He's acted like this is the fight he wants so he should be well armed.
Drake finally delivered the fight to his door. Let's see if Pusha T answers the call.
"Two Birds One Stone"
[protected-iframe id="782c0b15aa5ff98d22aed0cf22964f3f-60970621-60083518″ info="http://api.zippyshare.com/api/embed_new.js" width="100%" height="80″ ]