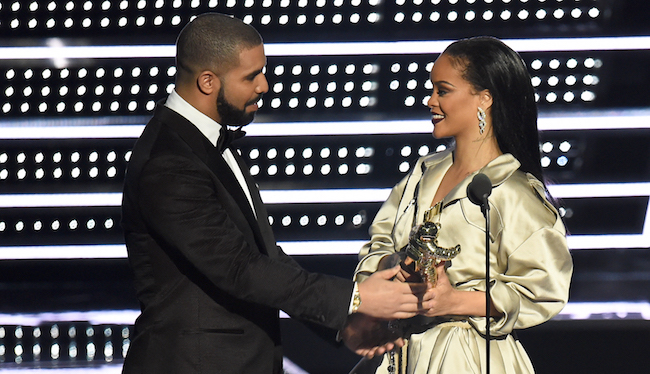 They've worked together and been linked together all year long so it's totally fitting that Drake and Rihanna share top honors in Spotify's year-end summary in streaming. The singer and rapper wound up being the top female and male artists of 2016 in the streaming service's annual list.
It's no surprise to see Drake leading in streams for all artists. He topped out at 4.7 billion streams, eclipsing the 1.8 billion streams he scored last year by over double. To date, the OVO rapper is the most streamed artist on the service with over 8.7 billion streams. "Drake has been unstoppable this year – he's a true global superstar," Stefan Blom, Spotify's Chief Content and Chief Strategy Officer, said. "It's no surprise he is dominating the music industry."
Drake's success this year can be tied to his Views LP, which broke multiple sales records and owned the charts for weeks unchallenged. It was the most streamed album, racking up 2.45 billion listens, and also hosted the most streaming song of the year, "One Dance," with 970 million listens.
Rihanna ruled as the rankings for women for the second year in a row by notching 2.5 billion streams to her credit. Her ANTI album and its big single "Work," featuring Drake, both ranked in the top five for Most Streamed Albums and Most Streamed Songs, placing third and and fourth in the respective charts.
Check out more of the rankings below before heading to Spotify for the full spiel.
Spotify's Global Year in Music 2016
Most Streamed Artists:
1. Drake
2. Justin Bieber
3. Rihanna
4. Twenty One Pilots
5. Kanye West
Most Streamed Female Artists:
1. Rihanna
2. Ariana Grande
3. Sia
4. Adele
5. Fifth Harmony
Most Streamed Male Artists:
1. Drake
2. Justin Bieber
3. Twenty One Pilots
4. Kanye West
5. Coldplay
Most Streamed Tracks:
1. "One Dance" (feat. WizKid and Kyla) – Drake
2. "I Took A Pill in Ibiza" – Seeb Remix – Mike Posner
3. "Don't Let Me Down" (feat. Daya) – The Chainsmokers
4. "Work" (feat. Drake) – Rihanna
5. "Cheap Thrills" – Sia
Most Streamed Albums:
1. Views – Drake
2. Purpose – Justin Bieber
3. ANTI – Rihanna
4. Blurryface – Twenty One Pilots
5. Beauty Behind the Madness – The Weeknd
Top Five Breakout Artists:
1. ZAYN
2. FRENSHIP
3. Anne-Marie
4. Madeintyo
5. Rob $tone
Most Popular Playlists:
1. Today's Top Hits
2. Rap Caviar
3. Hot Country
4. Peaceful Piano
5. Baila Reggaeton