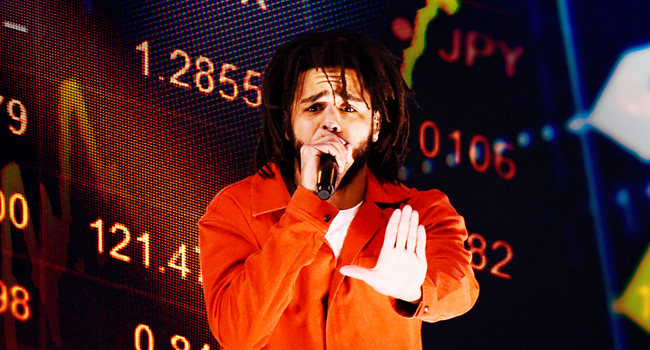 All genres go through ebbs and flows. Pop, rock, R&B, soul, funk, jazz, punk, metal, disco — they've all been through this, and so has everything in between. Right now, even though rap and hip-hop edged out rock to become the most popular genre in America, it's been starting to feel like the it has reached a temporary creative dead end. Yes, hip-hop, despite or maybe even because of its popularity, is in a rut — or maybe at a crossroads. There are either superstars and young upstarts, and it seems like the middle ground is a no-man's land that just can't be crossed. How could this happen, in spite of rap's newfound residence at the top of the charts?
Well, looking at the charts a rather strange phenomenon emerges. The same names hold the same positions over an absolutely insane amount of time. Jay-Z has been among hip-hop's top sellers for two decades, closely followed by Eminem and Kanye West.
The only artists to debut within the last decade on a similar level of continued chart success are Drake, whose Billboard Hot 100 streak only ended last week after eight years, and only after he refused to support his most recent release, More Life, J. Cole, and Kendrick Lamar, whose newest album DAMN. has fluctuated in position but held fast within the top five since its release in mid-April.
In the meantime, releases from Joey Badass, Big Sean, Vince Staples, 2 Chainz, Migos, French Montana, 21 Savage, Logic, Meek Mill, Goldlink, Oddisee, MC Eiht, Big Boi, Smino, Raekwon, Wale, Murs, Russ, and Vic Mensa have all come and gone, spiking just enough in their respective first weeks to create a blip on the charts, then sweeping away in the endless rush of new releases and the relentless fervor for something new. Many of these were fine, but not truly special, got overrated to make up for social media "hate," then failed to live up to expectations. Some were the best albums of the artists' respective careers, but all received the same reception, and ended with the same result: A big first week, followed by precipitous plummets and months of silence.
Meanwhile, Soundcloud favorites like Lil Uzi Vert, Kodak Black, Peewee Longway, Dae Dae, Mozzy, XXXtentacion, and Tee Grizzley keep popping up overnight, becoming sensations with small, fervent fanbases but eventually fizzling out with little attention away from Youtube compilations and a handful of rabid teens running stan accounts on Twitter. Much of their inability to catch on in the mainstream derives either from widespread derision as "mumble rap" spinoffs by grumpy old heads, or their own boneheaded inability to stop reprehensible behavior as their music catches on — just look at XXX's extensive rap sheet (and its karmic backlash) and Kodak Black's seemingly endless list of internet faux pas and more serious crimes. Don't even get me started on Famous Dex, who was captured on camera physically battering a woman in a hotel hallway.
Speaking of those grumpy old heads, they seem to be extremely present in the comments on the latest Lil Yachty essay defending his bouncy, happy brand of sing-rap, but conspicuously absent when the time comes to follow through on their wishes to support "real hip-hop." Where were the flags in the streets for the release of Imperius Rex, the late Sean Price's posthumous Duckdown Records release that dropped just this month? I haven't seen too many folks clamoring in the comments sections for more Conway, or Westside Gunn. It feels like Skyzoo is on his 11th year of being underrated, stuck under the radar, and yet, he keeps on chugging along independently on 10,000 equivalent copies per release alongside New York countrymen Torae and Dave East.
All of this has led to a mirror reflection of the state of America; the gap between the upper class of hip-hop continues to pull away, widening the divide between newer artists pushing to break out and established artists who largely live off their legacy and brand recognition, with placements in seemingly every ad and coverage on every site.
It's not as if the thinning middle class doesn't gets it due online; on the contrary, any number of articles is published on the daily championing a Dreezy or an Anderson Paak, only to be ignored in favor of yet another post about a Kanye meltdown, or the latest Drake antics, even as readers complain harshly about the preponderance of such posts. So what are rap and hip-hop publications supposed to do but continue to post the content that generates revenue at the expense of promoting a new group of stars?
For every Cardi B, who became a sensation after bubbling under the radar for a year, there is a Young MA, who is wildly popular for a moment, but whose rising star popped, sputtered, and faded away before she released HERstory, her debut EP. Though she is nominated for a "Best New Artist" VMA, the nomination seems cursory at best, from an organization that — all respect due — hasn't had the best track record in rap critique or cultural navigation.
Don't get me wrong; by any number of measures, hip-hop is as healthy as its ever been, but it feels like those stats are being unfairly boosted by the presence of too many megastars. Much like the median income for African Americans, the numbers are being skewed by the presence of so many millionaires at the upper reaches of the sample, which leads to an unrealistic portrayal of those in middle — because there are so many fewer than there are at the bottom, and they are so far between.
I don't know what the solution is. Maybe, like aging ballplayers, rappers who've been around for a while should gracefully bow out after they've played a few seasons and made "enough" money to allow room for the rookies to earn their own max contracts. Maybe they should take longer breaks between projects to give fans time to discover newer artists and fall in love with them. Maybe the equilibrium of the Force in hip-hop is just unbalanced, and it will take some cataclysm in the business to shake the table (maybe the impending failure of the major streaming services in favor of a new form of distribution). Whatever it is, it needs to happen soon. For all the diversity and options available within hip-hop now, none of these new micro-fanbases are sustainable in the long run for any artist seeking to make a living, because you can't eat "keeping it real." So artists need more than buzz, love, or respect, they need to get the money if they want upward mobility, and don't we all?" After all, that is the American Dream.