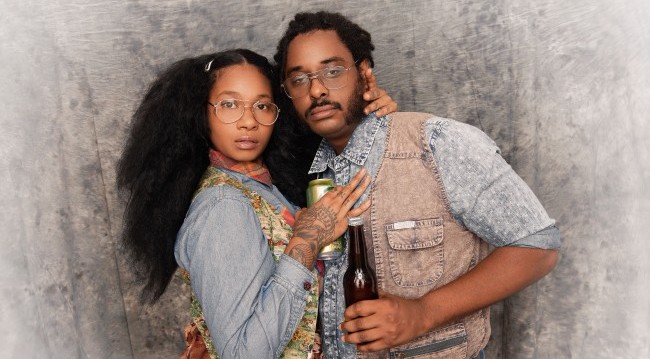 In the last dozen years or so, image memes have become one of the internet's favorite, primary ways to convey a specific, relatable emotion. Within the last few years, one, in particular, has begun to stand out a little more as the world seems to settle into a stranger, darker version of itself thanks to the rise of a certain pumpkin-colored politician and his Reddit-bred followers. I'm sure you've seen it by now.
It's a six-panel comic featuring a dog, sitting at a table drinking coffee as the house around him burns down. In the second panel, he says, "This is fine." By the fourth panel, he's melted down to a skeleton. Usually, when used with regard to America's current dire political straits, users will post the first two panels alone, as if to say, "Sure, everything's going to shit, but it's okay, we're all okay."
That always struck me as a bizarre way to look a situation. Call me a whiner, a complainer, a snowflake, but I'm a firm believer in the first rule of the 12-step program, despite being fortunate enough never to need it myself. In order to fix the problem, you first have to admit it exists.
Fortunately for me, I'm not alone in this denial of denial. Rapper/producers Jean Grae and Quelle Chris have also decided that this is a rather unproductive approach to dealing with life's problems and made an album about it, sarcastically titled Everything's Fine. It's out today on Mello Music Group, and it's a stunningly straightforward reflection on life's many speed bumps, both small and large and an honest meditation on the benefits of addressing them head-on.
Grae, formerly known as What? What?, has been a longtime fixture of the underground, independent rap scene, appearing on songs as far back as the early 2000s, spitting aggressively dextrous raps and raging against the corporate music machine. These days, she's self-releasing all her projects directly to Bandcamp and massively expanding her range, from performing straight stand-up comedy to singing boozy Christmas carols. There's even an "instructional album for adults" containing nuggets of wisdom for social interactions like "Don't Be A Dick To The Waitstaff" and "Use Your Fucking Headphones."
Quelle Chris is her longtime collaborator, a producer from Detroit who's been crafting left-field soundscapes for rappers like Open Mike Eagle, Danny Brown, and Pharoahe Monch since 2011. He's been a part of a number of Jean's Bandcamp experiments, especially contributing to her That's Not How You Do That series. He also directed the videos for Everything's Fine's singles, "Gold, Purple, Orange" and "Zero," for which he actually learned to code video games in order to create an authentic, retro look.
Everything's Fine finds the duo tackling everything from rap stereotypes to the fractious political climate over dissonant, off-kilter beats with dense rhymes packed with their trademark acerbic wit and jaded but optimistic insights. It's filled with hilarious skits from the duo's comedian friends like Hannibal Buress and Nick Offerman, but it also has tender moments like album closer "River," which delves into some deeply personal narratives. By balancing humor with their distinctive bluntness, they've made an album that draws us out of that sense of denial, to see that the house is on fire, but like the comic, giving a step back to see the comedy in the disaster.
The couple — Chris proposed to Jean in November of last year — graciously opened up about the album's creative process, working together as a couple in hip-hop, and what project they have planned next.
[protected-iframe id="5c96b90c86cbd9ee3bd8286ffd9e281c-60970621-76566046″ info="https://bandcamp.com/EmbeddedPlayer/album=3056731136/size=large/bgcol=ffffff/linkcol=de270f/artwork=small/transparent=true/" style="border: 0; width: 650px; height: 307px;"]
What's the concept behind Everything's Fine?
Q: The general idea is teeter-tottering between the side that "everything's great" and the reality of how things are and being like, "This sucks, that sucks, everything sucks," but it's still life. I'm still here so everything's fine.
But in reality, it's sometimes a formality to keep a conversation going.
J: A lot of times in conversation, especially in the past couple of years. As you get older, it tends to be a response that you give more and more without realizing that you're even doing it. You're like, "Everything's fine," but the narrator in your head is like, "Everything was not fine."
Extremely Morgan Freeman voice?
J: Yes! It's being open about it. Clearly, everything is not fine, so we don't have to not talk about it. It's okay to talk about it.
That's interesting because while hip-hop talks about mental issues often, I don't think anyone has addressed it in that way. Why was it so important for you guys to do it this way?
J: I think the idea is that it is so straightforward and it is so blunt. When you listen to something like "Breakfast Of Champs" and hear how harsh it is, no one's pulling any punches.
In conversation, we were trying to figure out an album title, and we'd been saying it so much because it was a lot of nights and a lot of work. We'd get this "Everything's fine, everything's great, this is exactly where I wanna be right now at 4 o'clock in the morning!"
I think it was just about accepting those things and being as open about it as possible. Not hiding, but in the most blatantly sarcastic way.
How did you guys decide that you were going to do this together as a group?
Q: We work with each other a lot. Jean has all of her live shows and every blue moon, she allows me to tag along and do something.
J: Aww.
Q: We have a series of That's Not How You Do That albums, there's three of those. We did an audiobook. We did I Swear To God, which was mostly Jean rapping and my production. So this isn't the first time that we've come together as far as hip-hop is concerned.
What brought it together was a series of events, those "everything is fine" type of events. A couple things went awry, so we decided to take it upon ourselves to fill in these voids in music by doing it together instead of pursuing other projects.
J: Luckily for us, when we say, "Hey, I need someone to help me do this thing," either of us can say, "Oh yeah, I can do that."
Q: We're together all the time anyway, so it's not like you have to set times to link up or anything. It's like, "Oh, let's just make an album!"
You guys are both huge innovators in hip-hop. How do you stay so innovative for so long? Jean's first EP (Attack Of The Attacking Things) came out in 2002.
J: I definitely don't wanna do hip-hop!
Q: Jean is definitely over hip-hop.
J: He loves it, and then that kind of puts me in a place of letting me remember why I love it.
I think as a person if you're not evolving and learning new things and challenging yourself, not just in your job, but outside of that — if you're evolving, you're taking all those experiences and you're putting it into whatever you do.
I like challenges. I like learning new shit. If it sounded like something I did last year or the year before or twenty years ago, then I would be failing at life, and I don't want to fail at life.
Q: There's a lot of times when I've come up with a song and I've been like, "Wow, that song is amazing!" but then I'll be like, "But it sounds so much like a song I've already made," then I'll immediately not like it.
J: I think we're both also open to trying new shit and not having fear, like, "Maybe it wouldn't work." We wouldn't know that unless we tried it.
Q: I've got a rule of thumb. If I make something and it sounds off or it sounds wrong, then I'm like, "This is probably really good," because that means that it's not something that my taste buds have heard so many times that it seems right.
J: There has to be some discomfort. You're not always gonna be comfortable when you're moving forward. The unknown isn't always necessarily comfortable until you keep doing it and that becomes your comfort zone.
You've been working outside the music industry machine for so long, how do you think your experiences of dealing with the machine have informed that approach?
J: I think I was doing this kind of stuff before there was really an avenue to do these things, so it's been very interesting. My issue with people having things so readily available to them and not taking advantage of that makes me so angry. Whether it's music or it's knowledge.
I love being able to flourish where we're at technologically, where we can learn something in an instant or make something in an instant. I think musically, it's just very difficult to be like "Okay, so now it's there." It's been necessary for me to step outside of music to other avenues where I can present things in other ways.
What are some of those things?
J: The Church Of The Infinite You is a gathering for creatives and dreamers. It's not a religious thing. I call it "non-denominational motivational."
It just comes from conversations with people and asking what they do and what they really want to do and why they're not doing that. I wanted a place for people to feel safe to talk about what's holding them back from being 100 percent amazing. I think if we were all doing that, getting our fears and issues out of the way, then we wouldn't necessarily be in the state that we're in as a global community.
I'm also doing "Jean And John," which is definitely not that. It's just me and John Hodgman fuckin' around on stage with a wheel and guests and music.
I've been doing a lot of scoring podcasts and digital shows, that always thrills me. I should stop there.
There's a one-woman show coming next year at The Public Theater.
You guys work so closely on so many projects. I don't want to cause any fights, but what are the hard parts of working together the way that you do?
J: We just work differently.
Q: I'm slower. It's a very "Nice 'N' Smooth" type combo. I'm very Pete Smooth, she's very Greg Nice. She's more fiery, I'm more chill, and it just plays off each other. Sometimes I don't have a lot of urgency, she'll spark me up, and sometimes, she has a lot of urgency and I can calm it down, so it works out. I would say any existing negative only works as a positive.
J: We're good puzzle pieces.
Once Everything's Fine is out, what's next?
J: I'm ready to die.
Q: She's ready to die. I've got a couple of rapper collaborations coming up. I shouldn't bark it out too soon, but a couple of good ones. A little New York, a little Detroit. Working on a new solo. And I want to have four solid levels done to our side-scrolling video game.
You guys are doing a video game?
Q: Our video for "Zero" is a good taste of what the video game will be like.
J: It's insane!
Q: A lot of violence and red stuff. That's how I like my games.
J: I have no collabs. I have no bars, none of that.
Anymore Christmas carols?
J: Maybe. We might. Let's see.