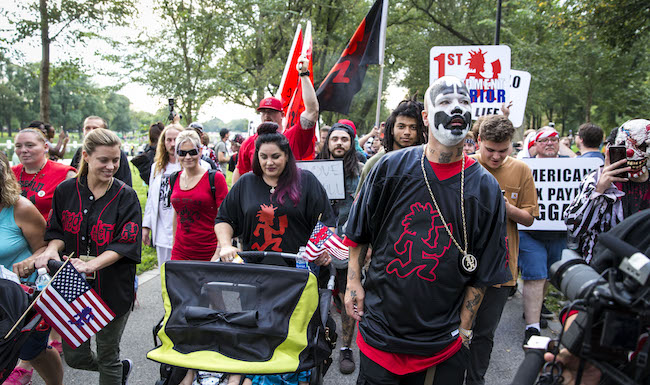 For over three years the infamous Detroit rap duo Insane Clown Posse has been fighting for their rights and the rights of their fans against the FBI and the US Government, and this week they may have suffered their most damaging loss yet. ICP was fighting against the FBI's classification of their fans, commonly known as Juggalos, as a gang and the legal complications they face because of that. A 2014 lawsuit by ICP's frontmen Shaggy 2 Dope and Violent J alleged the classification violated their constitutional rights, and made its way all the way up to The US Court of Appeals before it was tossed out on Monday.
The Washington Post reports that the US Court of Appeals for the Sixth Circuit ruled that the classification wasn't even challengeable in court as the FBI's gang classification isn't a "final agency action," meaning it's not an official, legally binding rule. According to The Post, the appeals court didn't believe the FBI's label had led to any legal consequences, and that though the FBI's report to Congress did classify the Juggalos as a gang, there were no orders to law enforcement agencies to do so as well.
The Juggalos have argued that the classification does cause complications for the ICP fans who do fall under the gang classification, as it has led to discrimination in the workplace, military and in the legal system. The classification as a gang can lead to increased prison sentences for relatively minor crimes in states like California, which carry gang enhancement laws that can increase sentences by up to 10 years. The Juggalos staged a march on Washington DC back in September to protest the classification, coincidentally on the same day as a Pro-Trump rally in the city.
The next step in the appeal, if the Juggalos do choose to continue on, would be the Supreme Court. If they chose not to take it to the Supreme Court, the FBI classification of the Juggalos as a gang will remain permanent.