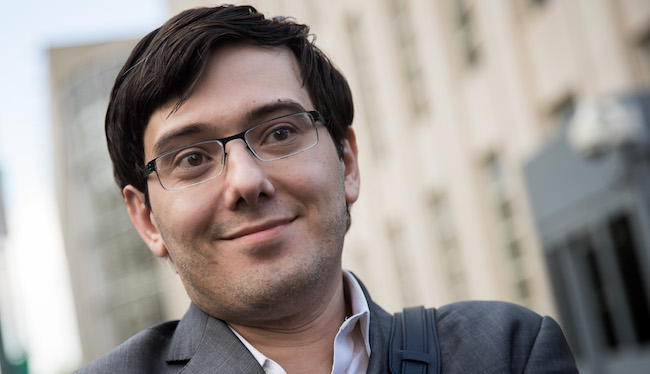 Things are spiraling downward for the so-called "Pharma Bro" Martin Shkreli. Back in August he was convicted in a securities fraud case, and while he awaits sentencing that could be as long as 20 years in prison, his bail has been revoked after he offered people cash to set Hilary Clinton's hair on fire. Now, the government may be about to hit him where it hurts the most: his iPod.
Yes, Shkreli, the owner of the infamous $2 million Wu-Tang album Once Upon A Time In Shaolin and Lil Wayne's much anticipated and oft-delayed Tha Carter V may soon have to turn those albums and other assets over to cover a $7.4 million debt to the government. BuzzFeed reports that in a forfeiture submission filed Thursday in Brooklyn federal court, prosecutors in his case asked for a bevy of assets from Shkreli, including Once Upon A Time In Shaolin, Tha Carter V, a Picasso painting, and an Engima machine from World War II.
Shkreli's lawyers are fighting the request, telling BuzzFeed, "None of the investors lost any money and Martin did not personally benefit from any of the counts of conviction." He continued, saying, "Forfeiture of any assets is not an appropriate remedy."
It remains to be seen if the government does get their hands on Tha Carter V and Once Upon A Time In Shaolin, what they'll even do with them. Shaolin may have sold in an eBay auction a few months back, so that might not be Shkreli's to turn over to the government anyway, though it remains unclear if that sale every actually went through or was even possible to begin with. And as for Wayne and Tha Carter V, with all of the litigation his career is tied up in, it would be a cruel irony for the government to get their hands on a complete version of the album before Wayne or his fans.