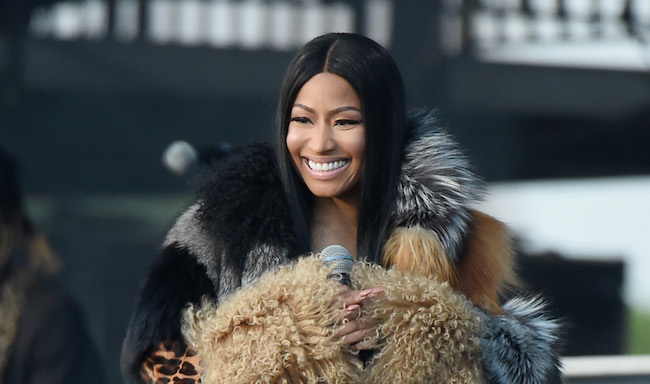 Usually just about anything Nicki Minaj does goes viral, whether she's twerking in the name of prosperity or giving away free tuition to hundreds of fans, if Nicki does it it breaks the internet. So it's no surprise recent comments from Ms. Minaj blew up and caused a firestorm as it was implied that she said she is responsible for "reintroducing the female rapper to pop culture."
Well, Nicki is back to clarify her comment, and she's pulling receipts and posting the actual video of her statement on Instagram for the world to see.
"My role in hip-hop has been super unique because when my first album came out there had been so much time where there wasn't a female rap album out that went platinum, there wasn't a big female rap presence right before I got in," she says in the video. "So, my role was really reintroducing the female rapper to pop culture."
So yes, those were the words she said, but Nicki notes in a lengthy caption on her post, there is additional context to those words. "I see ppl remixing my words so let me post "exactly" what I said for the intelligent ones in the back," Nicki said in the post. "Now, if you can find the part where I said "I made female rappers mainstream", I'll give you $100,000.00."
Nicki goes on to pay homage to numerous female rappers — including her favorites like Lauryn Hill and Missy Elliot — before further explaining her comments. "Imagine me saying I made female rappers mainstream when there were so many women who already had platinum albums under their belts," she said. "Lauryn sold 10 million off one album, Eve had platinum singles w/Alicia, Gwen Stefani, her own tv show and clothing line. It doesn't get more mainstream/pop than Missy's biggest singles. Foxy and Kim had platinum albums & shaped the sound of NY female rappers, Latifah had her own sitcom, Trina was on Billboard with hits, etc."
Finally, she clarifies her statement in her own words. "When I came out, there had been a drought of a few years where NO female rap album had gone platinum, females weren't getting budgets, the industry did NOT believe in the female rapper anymore," she said on the post. "They had stopped generating MONEY for labels. Ask any rap historian or just anyone with a brain. These are facts and nothing but the facts. So I "REINTRODUCED" the "successful" female rapper back to POP CULTURE. Showed big business we were major players in the game just like the boys were."
She also added that she's going on tour "next year" and has a couple big surprises in store for the tour. Whether she has an album on the way is anybody's guess, but Nicki has tossed out a few singles and made a ton of guest appearances so it's clear she's been in the studio cooking something up. Only time will tell what that is.