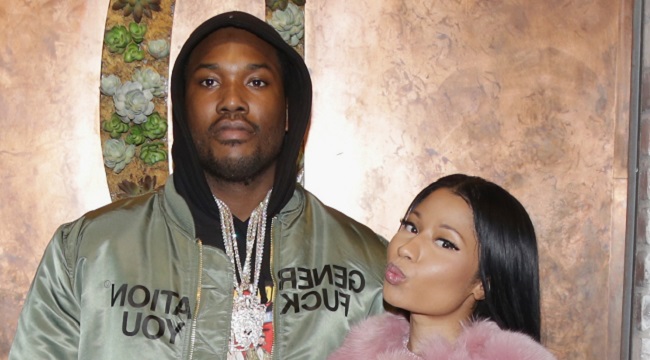 Nicki Minaj and Meek Mill are no longer together – but she could still help him out tremendously as he sits in solitary confinement while serving his 2-to-4-year sentence for a probation violation. If Meek Mill's lawyer Joe Tacopina, who filed a motion to remove Judge Genece Brinkley from Meek's case, decided to use Nicki's testimony from his 2016 probation hearings, it could further establish Brinkley's arguable failures as his presiding judge. Ditto FBI officials who are investigating allegations that Brinkley misused her power by suggesting Meek leave Roc Nation management to reunite with Philadelphia-based manager Charlie Mack, the man who initially introduced Meek to TI.
Brinkley was allegedly clear in her communication about wanting Meek to sing her name in a Boyz II Men song and leave Roc Nation, but resurfaced testimony from Nicki highlights Brinkley's lack of clarity in terms of more practical solutions for Meek during his egregiously long probation term.
"Right now there's no one that really tells him what he can do," Nicki told Brinkley in 2016 testimony. "I don't even think he has an idea of, you know, what you would want to see him do or how we could all help in Philly." Nicki further testified that her and Meek desired to be galvanizing figures in the community, teaming up to "go to the schools, speak to the kids, do free shows here."
Nicki also echoed sentiments that seemingly everyone from Jay-Z to Colin Kaepernick to the Philadelphia Sixers' owner to hundreds of youth who rallied for him share, that "there's so many ways that he could be utilized in Philly outside of going to jail."
Especially outside of solitary confinement, where he currently resides while serving his 2-to-4 year sentence. According to TMZ, his lawyers are urging officials to remove him from solitary into general population, where he "desperately" wants to be for the sake of his creativity and peace of mind. Officials worried that Meek would have trouble with other people who are incarcerated in the prison he's in, but he'd probably have more trouble with the "hallucinations, panic attacks, depression, loss of memory, and mood swings " that solitary confinement inflicts according to Princeton Spear.