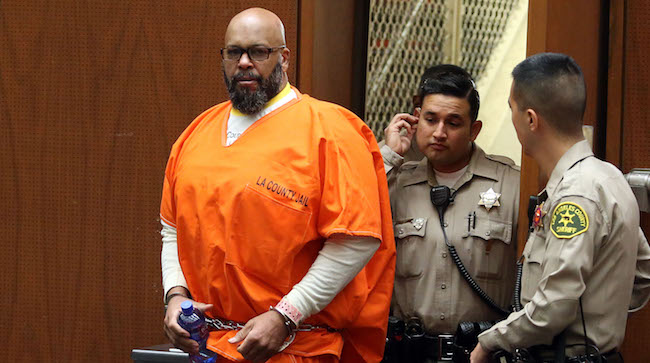 Suge Knight is already in tons of trouble, and now he's just adding water to the bucket as he's reportedly facing charges over yet another serious crime. Knight is already behind bars awaiting trial after allegedly running over two men, killing one and seriously injuring another back in 2015. The incident was captured on camera, and while his chances in court look bleak, Suge and his lawyers have adamantly denied the allegations for a host of reasons, and even while behind bars the famous former CEO of Death Row Records has been vocal on a wide range of topics.
One such topic was the N.W.A biopic Straight Outta Compton, which included a portrayal of Suge that he was not happy with, and reportedly is why Suge was in the same place as Dr. Dre, Ice Cube, and others when the incident which he's awaiting trial for took place anyway. Apparently, that violent incident was preceded by Suge threatening to kill Compton director F. Gary Gray over his portrayal in the film because he has now been indicted on felony criminal threats charges.
According to TMZ, just months before the incident that led to murder charges, and during the filming of Compton, Suge allegedly "threatened to commit a crime which would result in death and great bodily injury to Felix Gary Gray." The threats took place over text, according to the report, and he was indicted back in February over the charges and finally arraigned this week.
TMZ says Suge's camp believes the charges are only coming to light now because they believe the murder case is falling apart and the authorities are out to get Suge.