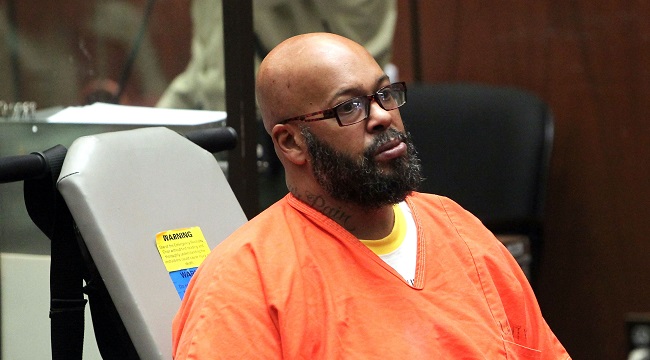 The mystery behind Tupac's death lingers on. Despite being 21 years removed from any verifiable sighting of the iconic rapper and a biopic about his life and death releasing earlier this year, conspiracy theories persist that the rapper wasn't killed in the 1996 Las Vegas shooting – and they're being sustained by one of the people closest to him: Suge Knight.
Ice T recently collaborated with Soledad O'Brien on Who Shot Tupac & Biggie?, (another) TV special aiming to investigate who was behind the shootings. TMZ captured footage of Ice T calling Suge, who's in LA County jail awaiting trials on murder, robbery, and criminal threats for his take. It's unclear if he doubled down on what was reported as his admission that his ex-wife and former Death Row security Reggie Wright (who was recently arrested for drug trafficking) conspired to kill him, but he definitely caused more head scratching with his assertion that "with Tupac, you never know" if he's alive and that he was "laughing and joking" with Shakur after the infamous shooting.
That echoes ambiguous sentiment Suge has given in the past, including speculation on the "mathematic impossibilities" of his posthumous output and most recently telling TMZ Tupac is "smoking a cuban cigar on an island somewhere." Nothing's impossible, but that seems unlikely given Tupac's self-diagnosed "big mouth" and countless accounts of him (from his aunt, brother and fiance) being in and out of consciousness, having failing organs and a lung removed.
It's somewhat admirable that Suge wants to keep the mysterious legacy of his onetime friend and Death Row signee alive, but it's also a little disrespectful to his family and fans who know that's not the case, but wish that it was.