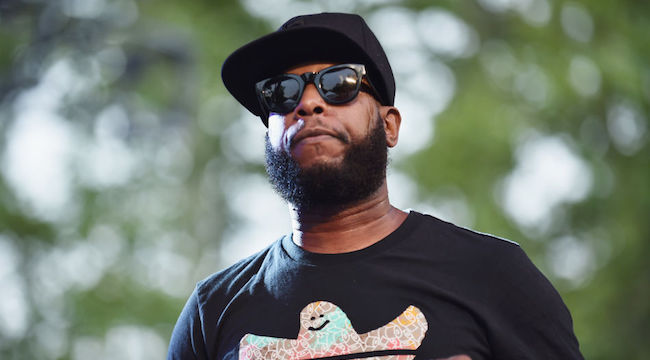 Update 11/11: It's now been three days since Talib Kweli has been locked out of his Twitter account, but the hip-hop legend is still finding ways to get his message across. In a new Instagram post, Kweli responded to Twitter's recent comments in which they call into question their own verification process, halting the ability to get verified altogether. In Kweli's eyes, it's not the process that is broken, but a problem with the actual employees at Twitter and their idea of fairness.
Kweli wrote:
"The day after Twitter verified the Nazi loving Jason Kessler, they locked my account for posting the public business address of a lawyer who is a violent white supremacist, a proud boy, which is an organization Jason Kessler was a member of while he organized the Charlottesville march where Heather Heyer was killed. This lawyer made many threats, killed ppl n***** and autistic f*****. It seems @twitter is more interested in protecting the reputations of violent white supremacists and supporting those these white supremacists love and follow. Twitter has now halted their verification process. I guess if white supremacists like Jason Kessler can't be verified, nobody gets to be. Somebody send this IG post to @jack hey jack you and I spoke about this. Your verification process ain't broken your employees are. They are not trained to recognize racist dog whistles and they haven't studied enough critical race theory or sociology to understand the way marginalized people are abused by the white supremacists twitter insists on coddling in the name of a flawed idea of what fairness is. Your people need training."

Talib Kweli has been silenced by Twitter following an exchange with an alt-right Texan attorney. As an activist, Kweli has not been one to hold his tongue when speaking out against injustices, and because of that has frequently become a target for extreme right groups and figures. But after Jason Lee Van Dyke used violent and racist hate speech toward both Kweli and his supporters, Kweli posted his already public business address to his more than a million followers. For this reason, Twitter locked Kweli's account and threatened to suspend him unless he removed the tweet.
Kweli's team notes in a press release that this follows a long line of seemingly bizarre standards, where people like Kweli, Rose McGowan, and Jemele Hill lose access to their account for speaking out against injustices, while often times it is the people using hatred and racism whose Twitter rights are being put first, even receiving the coveted Twitter verification checkmark.
In comments exclusive to Uproxx, Kweli points out the differences between McGowan's and his own situation, as McGowan's Twitter was locked when a private phone number was shared. "If you're posting someone's private information for the sake of harassment," he says by phone, "then that's a violation. I agree with that and think they are right to have that policy."

But Kweli notes that a lawyer is a business, and sharing a business address shouldn't be a violation. "If a business or a business owner is being racist, is being violent, is being sexist, is being homophobic; I feel like it's not just my right, but it's my duty as a citizen and community member to share that business' contact information so that people can confront and demand accountability," he says.
The content of Kweli and Van Dyke's interaction included Van Dyke's calling Kweli "an autistic f*****" and threatening lynching and murder to others. And while Twitter did suspend Van Dyke's account, this is not enough in Kweli's eyes and he feels that his business should feel the repercussions. "If a lawyer doesn't want to be found, he shouldn't have his information on findalawyer.com," he says. "If you have your information on a website like that, it means you want to be found for business. And if you want to be found for business, people should also be able to find you if they have a complaint."
"If this was NBC, American Airlines, Hilton Hotels," he continues, "if one of the companies was calling people n***** or calling people autistic f***** or threatening people with gun violence, Twitter shouldn't have an issue posting that company's address or encouraging people to demand accountability from them. That's why I posted that man's information. Him being suspended from Twitter only removes Twitter from the situation. After he's suspended from Twitter, he's still out there operating as a lawyer, and I can't just let that happen."
In the eyes of Twitter, posting Van Dyke's address was inciting harassment, but Kweli is adamant in his disagreement with their assessment. As of the posting of this story, Kweli remains resolute in his decision, and he hasn't bent to Twitter's demands.
"I haven't deleted the tweet yet," he says. "I might in the future, but not right now. I'm standing my ground on this point. What Twitter is doing by protecting this guy from accountability is saying that he might be a very fine person, too. It's the same thing that Donald Trump did when he said there are very fine people on both sides. He should not be able to hide. He should not be able to say 'my family is in jeopardy because I'm calling people autistic f****** and threatening to kill them.'"

Kweli also released a statement via press release, which you can read below.
"Twitter saw fit to suspend him from Twitter but they think my posting of his public business address is to incite harassment. This essentially means they only care about their culpability, but they don't care about the community this 'lawyer' serves in real life. A lawyer who does this should have his very public contact info shared by everyone so that we as a community can demand accountability.

If someone is claiming to be a defense attorney and they are making extremely disparaging remarks, unprompted, to and about women, black people, anti fascists, gay people on top of threatening to kill these people, shouldn't the community he serves have be able to have a place to call or an address to visit to express their grievances? If that is not the time to tell someone to contact a business, when is?

Getting back on Twitter is not my concern. Allowing a major corporation to say I harassed someone who tweeted me out of the blue making wild racist threats at me and those who support me is.

There is a community outside of Twitter that the lawyer is still a threat to. How can you not care about that community?"