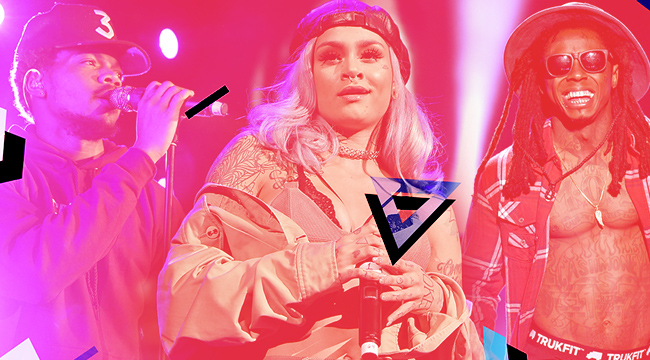 When Drake released his new "playist" More Life last month, one of the most common criticisms of the project was that Drake called it a playlist simply to avoid the critical scrutiny that comes with releasing an album. The notion is laughable, considering that Drake clearly is wholly focused on selling music and breaking streaming records and has shown no desire to chase critical acclaim in the past few years. Drake is into commerce, not art, and has made no statement to the contrary.
With that said, the entire premise does bring about one of the most curious quandaries in music at the moment: The dated notion of the mixtape.
The mixtape began as exactly what it sounds like, a tape full of music a DJ mixed, be it with actual blends or just a collection of music from separate places. It gradually began to evolve, later becoming a rapper's "jacking for beats" style project, wherein he or she would rap over numerous instrumentals from already popular songs, either straight through, or the rapper would repurpose the entire production to create an entirely new song. In the 2000s, it became as important as a rapper's actual album — when Lil Wayne began setting the standard — and eventually rappers began tossing original songs onto their mixtapes to complement the songs over other people's beats.
And that's where the line began to be blurred.
The mixtape has become its own genre in a sense, and a valuable tool as artists look to express themselves as they're often free and exist separate from their label. This allows the artist to truly create on their own, freed from the pressures of making a mainstream footprint and that has often led to an artist's greatest work. It's useful and the go-to outlet for independent artists who simply lack the resources to craft a true, big dollar production, major-label quality album. J. Cole, Drake, Wale, Lil Wayne, Big K.R.I.T., Meek Mill, Wiz Khalifa and many more have crafted their best works in the format of a mixtape. But those are often chock full of original music, samples that would have never been cleared otherwise and are practically albums and that all begs the question, what is a mixtape anyway?
The projects that have been labeled mixtapes in the past decade have moved closer and closer towards being albums as time has gone on, and so have the rules that govern mixtape politics and legalities. Now, after the Mac Miller and Lord Finesse lawsuit there is precedence for sampling issues with mixtapes. With streaming services and iTunes, mixtapes are being sold in the open market. With new Grammy bylaws, mixtapes are essentially eligible for the most prestigious award in the industry. And with the new way album sales are calculated, mixtapes are charting on Billboard and receiving plaques both for entire projects and individual songs. They're promoted heavily, garner expensive and highly polished music videos, are the subject of merch like t-shirts, hoodies, hats and more and mixtapes even result in massive tours.
Whether the artists want to admit it or not, mixtapes are albums now.
The only reason to still draw this line is similar to the accusation of Drake labeling his album — and More Life is an album — as a playlist. By identifying an album as a mixtape, or another name, artists are able to evade the criticism and scrutiny that comes with an album. It's a copout, and even though they'll often say they approached their mixtape like an album when they're trying to drum up interest in the project to ensure fans it is of the highest quality possible, if it falls flat they'll be quick to point out it isn't an album after all. If an album fails to make a commercial or cultural mark, that's okay because it's just a mixtape. If an album fails critically, that's alright it was just a mixtape anyway. And in the event that a mixtape does generate a hit, a cultural impact and is hailed critically then the narrative becomes "look at little ol' me and my little ol' mixtape that succeeded beyond expectations." Now, it's just a mixtape, but imagine what the artist could do and will do when they drop their album.
It's that narrative that has propelled Chance The Rapper, who, while more independent than most, was lauded as the little rapper that could with the little mixtapes that could. His collaborator and fellow gold plaque recipient for a "mixtape" track, Kehlani, was pushed with a similar narrative with her Grammy-nominated 2015 "mixtape" full of original music, You Should Be Here. The Oakland-native signed with Atlantic the week after that mixtape's release, a common practice that is generally viewed as an acknowledgement that the artist was signed beforehand and was assisted by the label for the mixtape's inception with valuable resources. You Should Be Here is currently featured on the Atlantic artist page for Kehlani as her "Recent Album," despite the label releasing her actual debut album SweetSexySavage earlier this year, and the mixtape is actually more expensive than her album on iTunes.
With the near death of jacking-for-beats style tracks, besides outliers like Lil Wayne and Dave East's Eastmix series, it's becoming harder and harder to discern what a mixtape is exactly, or if they even exist anymore. Datpiff, long known as the premier mixtape site and officially branded as "The authority in free mixtapes" is littered with mixtapes made up of completely original work. Their "What's Hot Now" section, a tab dedicated to "The mixtapes being streamed the most in the last 5 minutes" is eight mixtapes with all original songs from the likes of Lil Uzi Vert, YFN Lucci, Tory Lanez, Lil Durk and more.
Clearly, it's finally time to put the "mixtape" identifier to bed. Whether they're trying to avoid true criticism or there is some financial benefit, these albums like Coloring Book, You Should Be Here, No, My Name Is Jeffery, A Good Night In The Ghetto and all of the other "mixtapes" full of original music, with major label backing, pristine music videos, major promotional campaigns, nationwide tours, award nominations and wins, that chart on Billboard and collect plaques are exactly that, albums.
It's time to acknowledge them as such.