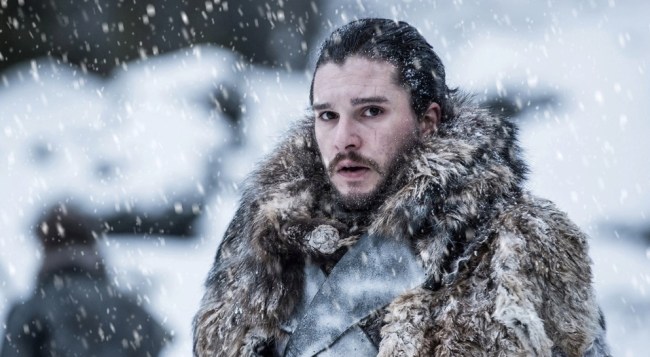 No one is more excited for Game of Thrones to be over than Kit Harington. Yes, it's where he met his wife, and it made him a lot of money, and it's not every day you're one of the principal cast members on the biggest show on television, but at least he can finally cut his hair. The guys in Pavement would be proud.
Harington's Jon Snow hair is iconic, as far as these things go ("kit harington hair" produces over 11 million Google results; it even has secret significance on Thrones), but he's been waiting to cut his tangled locks for years. He was legally forbidden from doing so, though. "I wanted to cut it and they were like, 'No, no, no, that won't be happening.' There's all of these ridiculous conversations that go back and forth between agents and managers and HBO," he explained in 2014. More recently, Harington was asked about his post-Thrones plans. "I'd like to step away and enjoy the obscurity, cut my hair, make myself less recognizable as the character, and go do and some other things with a completely new look and tone," he said. "I can't go into my next role looking the same. This role was brilliant, but I'll need to get rid of Jon Snow."
He already has (you can see a photo here).
Harington chopped his long, wavy locks and shaved off his beard to appear in Sam Shepard's Pulitzer Prize-winning play, True West, at London's Vaudeville Theatre Dec. 4 through Feb. 16. Although Game of Thrones wrapped shooting for its final season, Harington intimated to Entertainment Weekly at the Toronto International Film Festival that he was told to keep Jon Snow's look just in case reshoots were needed. At the time, he told EW that he wanted to shave his beard but grow his hair even longer when he was given the "all clear" to do so. (Via)
The fact that there's only one more season of Game of Thrones is beginning to really sink in. And now our Hair Watch has ended.
(Via The Wrap)