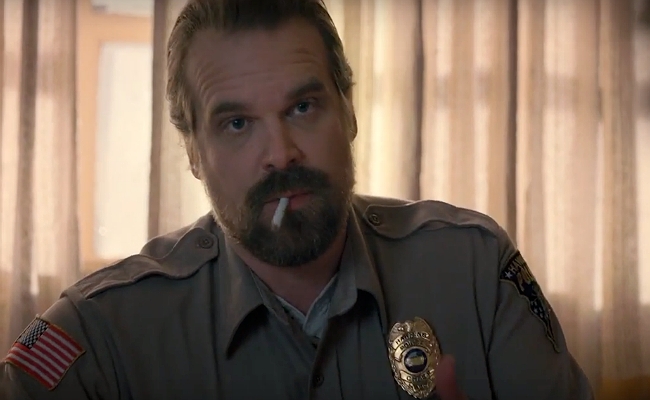 The thing about living in the past is that sometimes, the past isn't a good example for kids. In the case of Netflix's Stranger Things, the show's 1980s vibe might give kids the wrong idea about smoking and Netflix says it will be more careful about who gets to light up on its streaming service in the future.
July 4 brought the release of Season 3 of Stranger Things, much to the delight of shut-ins who may be in need of something to stream in lieu of a holiday barbecue. But before the show's latest installment hit the streaming service, news broke that Netflix will pay attention to one aspect of the show that has some health watchdogs worried about what it may be encouraging.
Stranger Things, set in the 1980s, features a number of its adult characters smoking. A lot. There's even a seven-minute video of Jim Hopper smoking on the show online if you need to see it all lined up to get the full effect. And that kind of exposure to smoking indoors and at offices and in the home in a 2019 where much of the former isn't allowed has caused some to ask Netflix to be more careful about what it allows on its shows.

According to Variety, Netflix released a statement that said the service will be more careful about depicting smoking on its shows after criticism from the Truth Initiative, which is firmly anti-smoking.
In response, Netflix said that going forward, all new shows it commissions with ratings of TV-14 or below (and all films rated PG-13 or below) will exclude smoking and e-cigarette use, except for "reasons of historical or factual accuracy." The streamer also said new projects with higher ratings will not depict smoking or e-cigarette use "unless it's essential to the creative vision of the artist or because it's character-defining (historically or culturally important)."

"Netflix strongly supports artistic expression," a company spokesman said in a statement to Variety. "We also recognize that smoking is harmful and when portrayed positively on screen can adversely influence young people."
According to the report, Netflix will also offer more information about smoking on its ratings sections, though it's unclear if that means a simple screen of text or the more involved outreach efforts for mental health awareness that ran with 13 Reasons Why.
Other Netflix series and productions like Russian Doll also feature smoking, but since Stranger Things features kids and is rated TV-14 it seems to suggest that more youngsters could be watching. This would clearly not be a problem, however, if this were a show about advertising.
[via Variety]