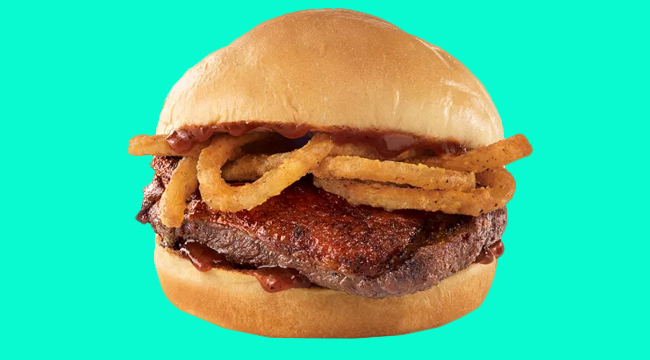 Here at Uproxx we like to keep a close eye on Arby's because many of our food writers are keen on meat and well, Arby's has meat. Sometimes it's deer sandwiches. Other times it's a giant turkey leg, served county fair-style. The newest addition to Arby's apparent sandwich line up is a pretty fancy riff on the "people aren't particularly used to seeing this from a fast food chain"-genre. The brand's new duck sandwich will be introduced to fast food lovers and people who are just plain curious October 20. That's the cool news. The less cool news is that it'll only be at 16 locations, which are all adjacent to where people are likely to participate in duck hunting.
If you live in or near one of the "waterfowl migration highways" (Atlantic, Central, Mississippi, and Pacific) across the country, get your Horsey sauce ready for a seared duck sammy. The sandwich will be topped with crispy onions and a smoked cherry sauce, and we'll be eagerly watching the Interwebs for the reactions of those who have access to it.
While this may sound surprising to those who don't typically eat duck, the water fowl has a long history in the United States and has been a popular protein for millennia. Plus, people talked mad sh*t about the venison sandwich before it went on to smash expectations. It even got a wide release nationwide a while back.
The 16 Arby's location serving the "Seared Duck Breast Sandwich" are as follows:
CAMBRIDGE, MD
SUMMERVILLE, SC
WYOMISSING, PA
ATLANTA, GA
PEARLAND, TX
KALISPELL, MT
GREAT BEND, KS
LINCOLN, NE
MARSHALL, MO
JONESBORO, AR
LAFAYETTE, LA
ONALASKA, WI
CARSON CITY, NV
BRIGHAM CITY, UT
CHICO, CA
HAPPY VALLEY, OR